Grids lift, EYCI breaks new record
14 June 2016
Recent rain has compounded the pressure of tight cattle supplies across the eastern states, driving over-the-hook (OTH) prices dearer. The OTH indicators in Queensland and NSW were up around 20¢/kg cwt week-on-week, with the majority of increases occurring around the middle of last week. The lift pushed all major NSW and Queensland indicators to the highest level recorded so far this year and placed some within 20¢/kg of where they peaked last September – illustrated in the chart below.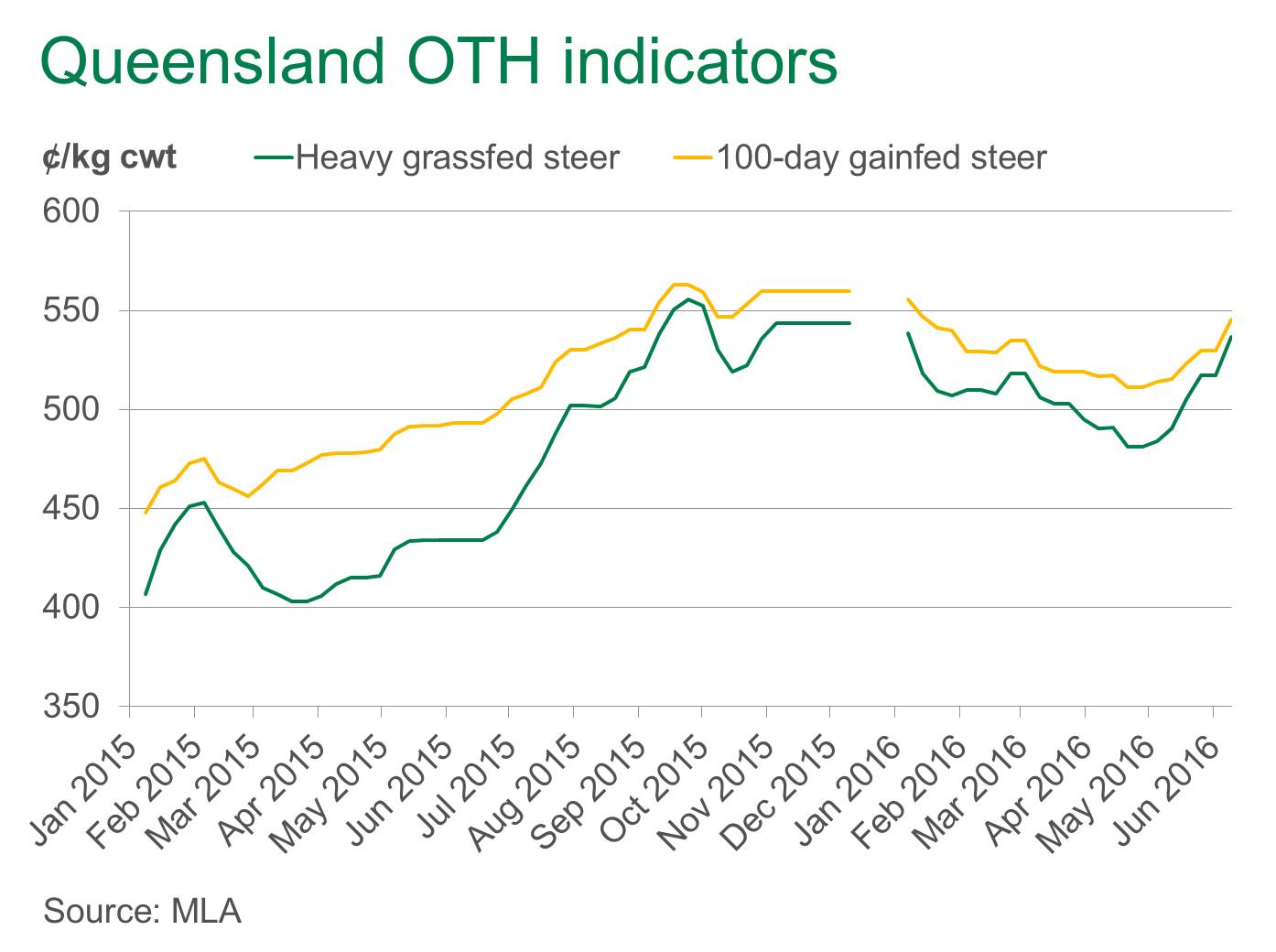 In addition, following the long weekend in the southern states, the Eastern Young Cattle Indicator (EYCI) finished Tuesday at a record 607.75¢/kg cwt, up almost 20¢/kg cwt week-on-week and 2¢/kg cwt above the previous high in February this year.
In particular, EYCI eligible cattle at Roma Store averaged 620¢/kg cwt on Tuesday, up 29¢/kg week-on-week, supported by solid restocker competition for light weight steers and heifers, in addition to feeder buyers from NSW and Queensland pushing feeder yearling steers to record high levels.
Other strong markets on Tuesday included CTLX and Gunnedah, where EYCI eligible cattle averaged 649¢/kg cwt.
Slaughter figures for last week reflect tight cattle supplies, with just 140,468 adult cattle processed across the eastern states, back 9% year-on-year.
By state:
Queensland processed 71,747 head, back 10% year-on-year
NSW processed 32,653 head, back 8%
Victoria processed 24,628 head, back 6%
SA processed 7,457 head, back 16%
Tasmania processed 3,983 head, steady on last year but back 15% week-on-week following wet weather and flooding across parts of the state
For the latest OTH indicator reports, click on links below.
To subscribe to any of the OTH or slaughter reports, email marketinfo@mla.com.au.
Join myMLA today
One username and password for key integrity and information Systems (LPA/NVD, NLIS, MSA & LDL).
A personalised online dashboard that provides news, weather, events and R&D tools relevant to you.
Customised market information and analysis.
Already registered for myMLA?