Grilling US prices
23 May 2017
Enthused by low beef prices at the close of 2016 and into the early 2017, US retail and foodservice prominently featured the protein and often at a discounted price. Consumer demand increased at a time when US production was also growing. However, as grilling season demand edges towards its peak, the availability of product has become constrained, driving prices higher.
Short-term drivers
As of 22 May, US choice beef cutout reached 248US¢/lb – an increase of 45US¢/lb since the beginning of the year and only 7% below where it peaked in 2015. A number of short term factors aligned to contribute towards a price spike:
Increased competition from packers in order to fill strong retail and foodservice demand
Ongoing supply constraints out of Australia and New Zealand and limited imported volume
Strong demand from overseas markets – at 208,000 tonnes swt, first quarter US exports were the strongest since 2000
Adverse weather across key cattle producing states, causing a decline in market ready fed cattle and carcase weights
Memorial Day holiday (29 May) and 4th of July celebrations supporting strong consumer demand
Recently released USDA cold storage stocks indicate that, as of 30 April 2017, frozen boneless beef inventories in the US were down 4% year-on-year and 3% lower than the five-year average, at an estimated 189,000 tonnes. The decline in beef inventories further highlights the tight domestic availability.
Steiner Consulting Group does not anticipate an immediate drop in wholesale beef prices, reporting that a move lower will only occur once consumers see price increases through the retail sector.
Click here to view Steiner Consulting latest US imported beef market weekly update
Cattle market outlook
The weather-driven shortage of fed cattle in the market has created greater competition between end users in the US, reflected in the fed choice steer indicator increasingly sharply in recent weeks – now close to parity with the CME feeder steer index.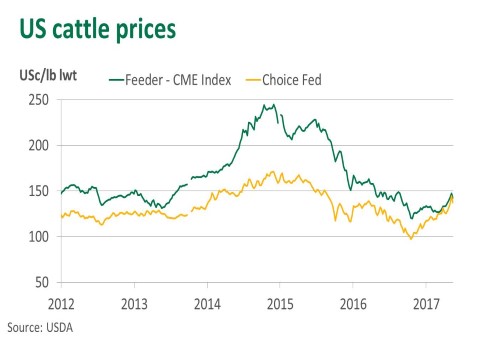 However, forward cattle prices in the US appear to indicate a move lower once the uncertainty subsides following the grilling season. US August fed-cattle futures show a 6% increase from the spot market but futures are priced at a discount towards the close of the year. Steiner Consulting Group also comments on the market uncertainty, reporting that numerous market participants believe there could be potential for a much sharper decline once Memorial Day needs are filled.
Join myMLA today
One username and password for key integrity and information Systems (LPA/NVD, NLIS, MSA & LDL).
A personalised online dashboard that provides news, weather, events and R&D tools relevant to you.
Customised market information and analysis.
Already registered for myMLA?