Health protocol signed to enable the export of Australian slaughter cattle to China
30 July 2015
---
Australia has been exporting breeding cattle, dairy heifers and beef breeders, to China since 2001. Today, China is already Australia's third largest market for live cattle, after Indonesia and Vietnam.
China is an important and growing live cattle market for Australia, with the value of exports increasing almost ten-fold since 2008 – from around $25 million to over $245 million in 2014 (Australian Bureau of Statistics).
2014 was the biggest year for Australian live exports to China since trade began.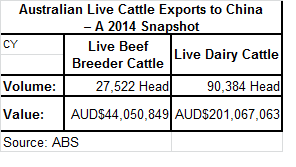 The new health protocol was signed by Agriculture Minister Barnaby Joyce on 20 July in Canberra during the visit of a high level Chinese delegation to Australia.  The next step is for Chinese Minister, Han Changfu, to sign the protocol following the delegation's return to China.  The agreement will enable exports of slaughter and feeder cattle to China, making Australia the first country to export such types of live cattle to China.
The health protocol agreement gives the green light for subsequent steps to be taken that will begin the trade, including finalising commercial agreements, establishing ESCAS supply chains and for import permits to be issued by Chinese authorities.
The China Australia Free Trade Agreement (ChAFTA), signed in Canberra last month, contains several key implications for Australia's beef industry, including live cattle. Tariffs on Australian feeder/slaughter cattle imports to China, currently at 10%, will be eliminated within four years. Australian pure-bred breeding cattle have a 0% import tariff to enter China. Once imported, both feeder/slaughter and breeder cattle are subjected to a Value Added Tax of 13%.
Australia has an established and diverse live cattle trade with a number of countries.
Aside from Australia, China also imports breeding cattle (mostly dairy heifers) from New Zealand and recently Chile, Uruguay and Mexico have also supplied small numbers of breeder cattle to China.
Join myMLA today
One username and password for key integrity and information Systems (LPA/NVD, NLIS, MSA & LDL).
A personalised online dashboard that provides news, weather, events and R&D tools relevant to you.
Customised market information and analysis.
Already registered for myMLA?