High female throughput sustained
12 September 2019
Processors had another month of high supply in July. ABS figures recorded processor throughput of adult cattle above 700,000 head for the fourth time in the last five months. As has been the case throughout 2019, slaughter has been driven predominantly by female cattle, with cows and heifers making up 57% of total adult slaughter.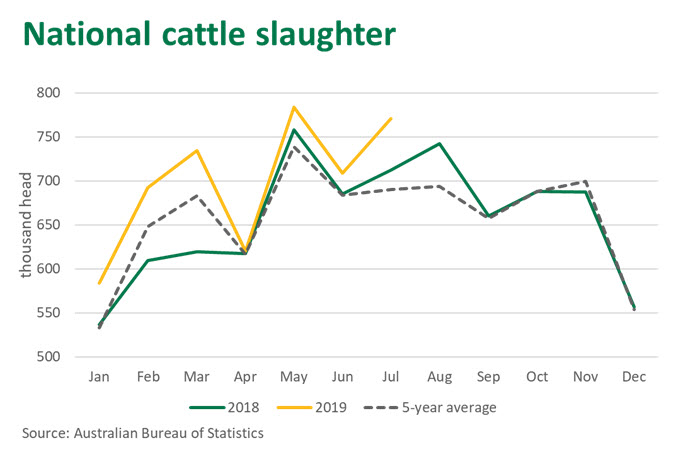 Total slaughter in July was 771,000 head, 12% above the average July slaughter since 2010. While male slaughter in comparison is back 6%, over 100,000 head (29%) of extra females were slaughtered compared to average.
The high level of year-to-date supply to processors has been driven particularly by an increase in Victoria, where slaughter numbers were recorded 177,000 head (20%) more than the average over this period since 2010, albeit the impact of a major plant closure in SA will have contributed to the increase. New South Wales, up 83,000 head (8%) and Queensland, up 97,000 head (5%), have also seen additional throughput. South Australia is the only state to decline on their average year-to-date slaughter where numbers have contracted 92,000 head, nearly half what they have processed in the past.
The high female slaughter is having a major effect on carcase weights, with the average carcase weight back 3% or 9kg so far in 2019 compared to last year.
© Meat & Livestock Australia Limited, 2019
Join myMLA today
One username and password for key integrity and information Systems (LPA/NVD, NLIS, MSA & LDL).
A personalised online dashboard that provides news, weather, events and R&D tools relevant to you.
Customised market information and analysis.
Already registered for myMLA?