Back to

Prices & Markets
Subscribe to Prices & Markets e-newsletter
For in-depth red meat market news, information and analysis.
SIGN UP
High slaughter rolls on
21 March 2019
January ABS slaughter data raises concerns for livestock supply moving forward, with numbers indicating a continuation of heightened turn-off.
Cattle
Limited paddock feed and critically low stock water in some areas saw turn-off dip further into core breeding stock in January. The sustained number of female cattle going through to slaughter will have an effect on the national herd and beef supply in years to come, as outlined in the latest industry projections.
For the month of January, Australian adult cattle slaughter totalled 584,000 head, up 9% year-on-year. The increase was driven entirely by female slaughter, which was up 27% year-on-year and 55% above January 2017. On the other hand, male slaughter fell 5% year-on-year.
The female portion equated to 50.7% of total slaughter in January, with the figure now sitting at 51.2% on a 12-month rolling average basis. For perspective, the 12-month rolling average figure has now risen above the heights of the 2013–2015 drought – the highest level seen since the late 1990s.

The proportion of female slaughter is a key metric when analysing movements in the national herd and, more specifically, whether a liquidation or expansionary phase is occurring. A rise above 47% on a 12-month rolling average basis would typically indicate a liquidation phase in the herd.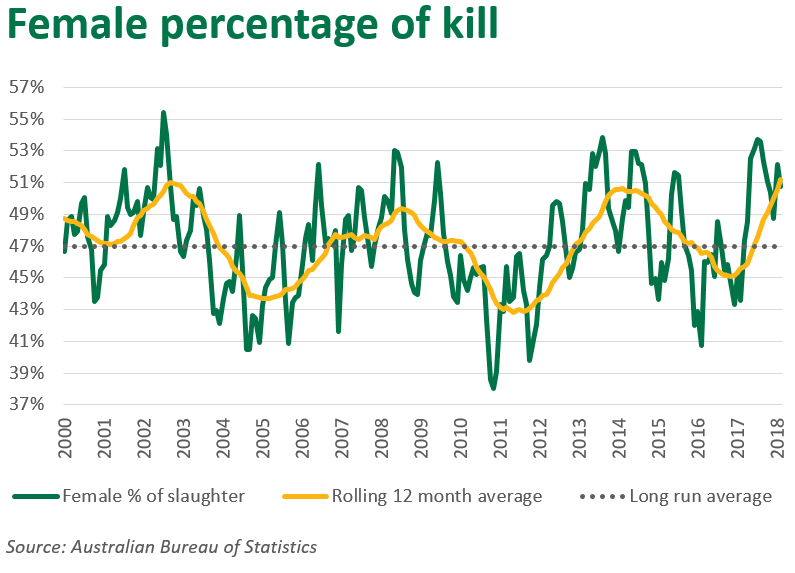 In terms of volume, the largest year-on-year increase in female slaughter occurred in Victoria (up 22,000 to 87,000 head), while NSW (up 17,000 to 68,000 head) and Queensland (up 14,000 to 102,000 head) also recorded strong gains.
Female carcase weights reflected a difficult season, with the national average in January falling 14kg year-on-year to 258kg/head. Male carcase weights were much more consistent, rising 1kg year-on-year to 327kg/head.
Sheep
January sheep and lamb slaughter rose substantially on year-ago levels, with the sheep component highlighting the possibility of reduced lamb supply later in the year.
National lamb slaughter rose 4% year-on-year to surpass 2,000,000 head – the highest January slaughter total on record. The high numbers likely represent delays in getting spring lambs to market earlier, due to poor seasonal conditions and difficulty in attaining weight gains in the back-end of 2018.
Lamb carcase weights were consistent with the previous year, at 22.9kg/head. The stability in lamb carcase weights reflects many producers' willingness to feed grain to cover summer feed gaps, incentivised by strong finished lamb prices in recent years.
Sheep slaughter rose 17% on the previous year, totalling 828,000 head in January – the highest January slaughter since 2014.
The national average sheep carcase weight fell 0.8kg year-on-year, to average 23.2kg/head in January.