Holidays bite into beef exports
04 May 2017
Beef exports during April reduced dramatically, with Easter and ANZAC day holiday disruptions further compounding already tight supplies. Throw a cyclone into the mix in late March and Australia shipped just under 67,000 tonnes swt of beef during the month – the lowest April volume since 2000 (DAWR).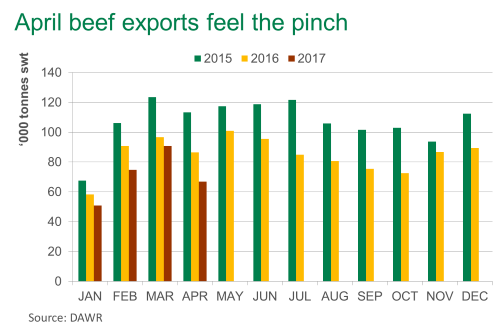 Eastern states weekly cattle slaughter averaged just 108,000 head in April, back 31% (or 33,000 head) from the year prior and a stark contrast to the 180,000 head weekly peak in the same month of 2015 (MLA).
Exports to most major markets eased in April, with only a couple of exceptions. Exports to China (8,232 tonnes swt) appear to have benefitted from short term disruptions to Brazilian beef shipments following a widely publicised meat scandal. Meanwhile exports to Indonesia (3,940 tonnes swt) grew 53% year-on-year with the approach of Ramadan in late May.
For the year-to-date (283,266 tonnes swt), the decline in exports is not as severe, back 15% from the same period last year, but reflective of the overall shortage of cattle. Of particular note, however, shipments to Japan have recovered, and are up 11% year-on-year at 85,606 tonnes swt, despite growing presence of US product.
Korea has been less immune to US competition, and exports so far this year have declined 26% to 41,107 tonnes swt – bearing in mind this is compared to a record high 2016. Furthermore, some cuts traditionally destined for Korea have been diverted to China, with chuck roll, brisket and blade exports from Australia to the latter market growing 34% so far this year. Total Australian shipments to China (32,606 tonnes swt) have grown 5% during the first four months of this year.
Shipments to the US (65,403 tonnes swt) have continued to register falls (back 30% year-on-year so far in 2017), particularly amongst frozen manufacturing beef, as growing domestic production displaces already tight imported beef supplies.
Click here for comprehensive summaries of the latest Australian export statistics.
Join myMLA today
One username and password for key integrity and information Systems (LPA/NVD, NLIS, MSA & LDL).
A personalised online dashboard that provides news, weather, events and R&D tools relevant to you.
Customised market information and analysis.
Already registered for myMLA?