Hypermarkets vs. Convenience stores in SEA retail market
16 September 2015
---
The South East Asian retail market has been developing rapidly, however growth trends are different from one country to another, influenced by unique socio-economic characteristics and consumer preferences.
The year-to-date volumes of Australian red meat exports to the region have been somewhat soft in comparison, with last year (except lamb – see below table), impacted by reduced beef intake from Indonesia and the Philippines, combined with strong Australian beef prices.

That said, the region's modern retail sector has continuously evolved over the last decade, and further growth is anticipated for the Australian red meat industry. Proportion of traditional outlets is still high – 50% in Thailand and Malaysia, and more than 80% in Vietnam – in the food retail sales, but this is set to change, according to Business Monitor International (BMI) Research, supported by rising incomes, urbanisation and demand for greater product variety.
Hypermarket
Hypermarkets often reside within a larger shopping centre complex in outer suburbs, offering product diversity, greater value by volume, and sophisticated shopping experience. BMI sees growing opportunities of this retail format in less developed retail markets in the region, including Indonesia, the Philippines and Vietnam.
Convenience store
Thailand already has a sophisticated retail sector in the region, backed by relatively high GDP per capita, and a constant flow of international tourists. It is also the country with 1) high female participation in the labour force, 2) smaller households (3 people or less), and 3) limited and expensive rental space in urban areas. Convenience stores are seen suited to these time poor urban consumers who prefer frequent trips to local shops, rather than travelling by car to buy groceries in a big shopping centre.
BMI indicates that the preference to convenience stores will also grow in Vietnam and Indonesia over the long term, underpinned by the same factors above.
While modernisation and increasing preference for quality proteins will likely to support further growth of demand for Australian red meat in the region, immediate challenges include highly fragmented retail and cold chain infrastructure, competition with other protein suppliers, and uncertain food policies that may influence Australia's trade with the country.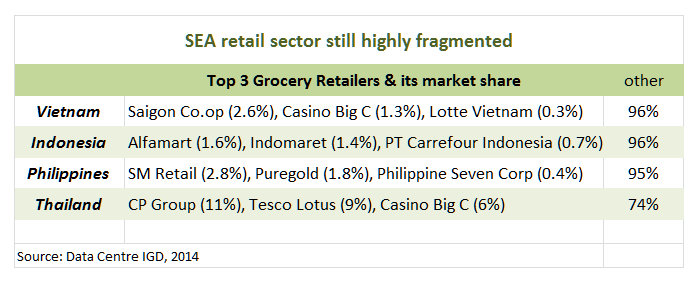 Join myMLA today
One username and password for key integrity and information Systems (LPA/NVD, NLIS, MSA & LDL).
A personalised online dashboard that provides news, weather, events and R&D tools relevant to you.
Customised market information and analysis.
Already registered for myMLA?