In good taste
07 March 2018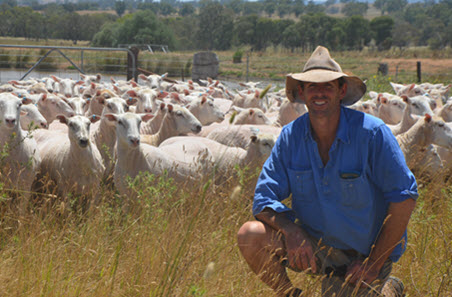 MSA is a natural fit for sheepmeat producers wanting to maximise the returns from premium eating quality in lamb, according to producer Robert Armstrong.
Robert runs 3,000 Primeline ewes across the 2,000ha property 'Yullundry' outside Cumnock in central-west NSW with his wife, Felicity, and their three daughters.
Finding the sweet spot
Up to 75% of the Armstrongs' lambs are processed through Thomas Foods International at Tamworth, with a small consignment of lighter lambs going through the saleyards or direct to Coles.
"We aim for a 26kg carcase...that's the sweet spot for us, where we reach our most efficient level of production," Robert said.
Eating quality has been a primary focus for Yullundry over the past five years. Robert and Felicity have changed their breeding program with the aim to turn over higher yielding lambs, with premium eating quality, earlier.
"We have a self-replacing composite breed, joining the same ewe with the same ram," he said.
"The breeder we use [to supply our genetics] is very progressive and focused on the quality of the product.
"We're interested in the future of the sheepmeat industry and where this focus on eating quality is heading."
Recognise opportunities
Robert said this focus has the potential to attract a premium for quality product.
"You don't want to be in the position where you've missed the boat," he said.
"I think eating quality is gaining traction within the industry. It's consumer driven. If it's what the consumers are asking for, it's what the processors will ask for from us.
"It's pretty challenging to make a profit from agriculture, but MSA allows you to differentiate yourself in the marketplace."
Good management leads to consistency
Robert said MSA guidelines reinforced 'good stock management'.
"It's something we've always taken very seriously here, so the MSA framework has backed up what we do."
To help maintain eating quality consistency Robert supplements his flock's diet with grain during months where grass is light on.
The grain consists of a mix of oats and wheat, with some supplementation products for the wellbeing of the stock.
LESSONS LEARNED
The potential to receive premiums for MSA branded products has been the main driver behind adoption in the sheepmeat industry.
Improving eating quality of lamb will assist in generating a point of difference in the market.
Good stock management is one of the guiding principles of MSA.
More information:
Robert Armstrong
Email Robert
Visit mla.com.au/msa
Join myMLA today
One username and password for key integrity and information Systems (LPA/NVD, NLIS, MSA & LDL).
A personalised online dashboard that provides news, weather, events and R&D tools relevant to you.
Customised market information and analysis.
Already registered for myMLA?