Indonesia announces imports of 50,000 slaughter cattle
12 August 2015
---
The Indonesian government has announced that the state logistics agency BULOG will bring in 50,000 head of ready-to-slaughter cattle, in response to a beef shortage and soaring prices in the market.
The government made changes to its live cattle import regulations earlier this month. The revision includes a clause to allow State Owned Enterprises (SOE) and importers to bring in ready-to-slaughter cattle to stabilise supply, based on recommendations by the Ministry of Agriculture.
Australia predominantly supplies Indonesia cattle 15 to 18 months old that weigh around 300kg (less than 350kg per head), to be fed at local feedlots for about four months. The recent news on slaughter cattle imports reflect the substantial shortage of beef in the market and the need for an immediate resolution.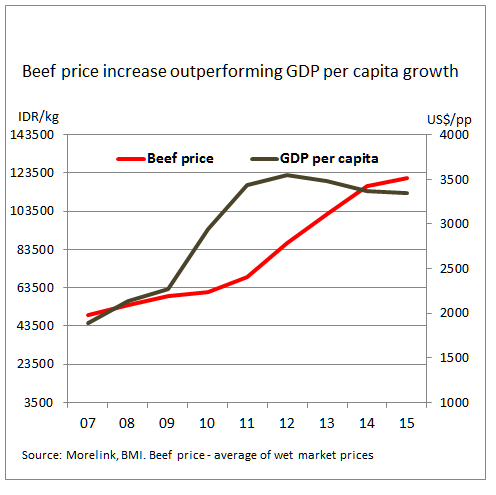 Beef prices have been high even after the strong demand season (Ramadan and post-Ramadan Idul Fitri festive period). In-market information suggests that beef in wet markets is trading between IDR125,000/kg (A$12.50) or even IDR140,000 (A$14), more than 30% higher than the average before Ramadan. For a country with GDP per capita below than US$3500, the price increase is causing serious dissatisfaction among consumers.
Join myMLA today
One username and password for key integrity and information Systems (LPA/NVD, NLIS, MSA & LDL).
A personalised online dashboard that provides news, weather, events and R&D tools relevant to you.
Customised market information and analysis.
Already registered for myMLA?