Japan FY2016 – three key areas for the beef industry to watch
04 May 2016
---
With the commencement of the new Japanese Fiscal Year (JFY) 2016 (from April 2016 to March 2017), some of the key factors that are likely to have implications with the Australian beef trade are:
Market access – TPP parked for now, but discussions later
Japan's ruling Liberal Democratic Party is no longer seeking an approval for legislation of the Trans-Pacific Partnership (TPP) during the current parliamentary session. The discussion will be held off until the next session (after the July elections for the Upper House), further delaying the timing of the economic framework entering into force.
 
In the meantime, Australia continues to take advantage of reduced beef import tariff rates under the Japan-Australia Economic Partnership Agreement (JAEPA). Chilled and frozen beef import tariff for Australia during JFY2016 is 30.5% and 27.5%, respectively, while other suppliers (including the US and other TPP members), are tariffed at 38.5% for both categories.
 
There was no beef safeguard* triggered under the Japan-Australia Economic Partnership Agreement (JAEPA) during the JFY 2015.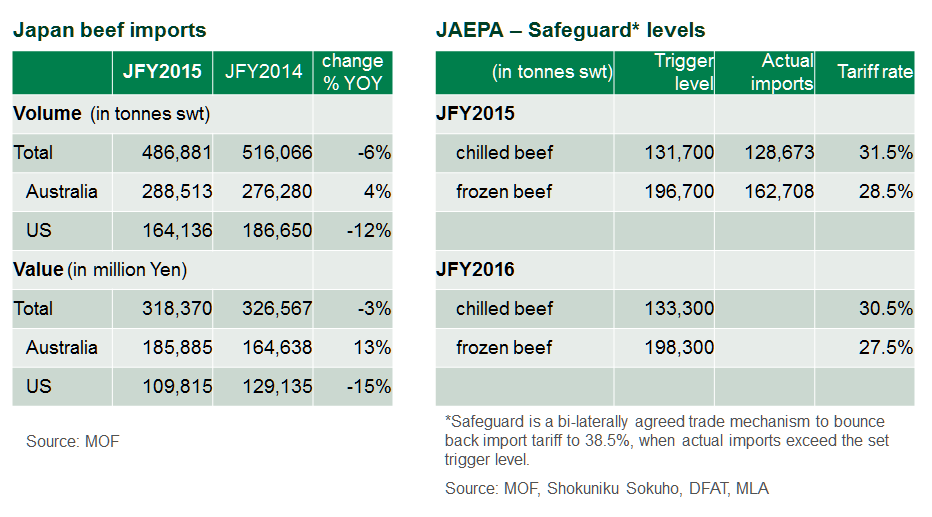 Consumer sentiment – economising consumers adapt 'petit luxury'
Consumers are reportedly tightening their budget, on the back of weakened exports (stemming from the yen appreciation), economic uncertainties, and 'saving-for-rainy-days' sentiment – reminded by the devastation caused by earthquakes in the Kyushu region last month.
 
Subsequently, the next consumption tax increase – from the current 8% to 10% – may not be implemented as scheduled (April 2017), with the majority of consumers (66% of respondents) opposing already, according to a Nikkei survey.
 
The price sensitive mindset is likely to further assist demand for cheaper proteins, particularly imported US pork and Brazilian chicken in the processed or value added food, and casual foodservice sectors.
 
That said, consumers are also seeking 'small luxuries' when they can. Some supermarkets reported strong sales of higher value products during Golden Week (series of public holidays in Japan this week), including beef steaks and delicatessen products. Amusement parks are also registering a good number of visitors this week, attracting families who chose short and comparatively less expensive leisure experience.
Japan's Wagyu beef exports – emerging demand for highly marbled beef
Albeit its extremely small volume – 1,583 tonnes swt during the year – Japan's beef exports (mostly highly marbled Wagyu beef) have been growing, underpinned by the government's drive to promote Japanese agricultural produce to overseas.
 
The growth is also assisted by increasing demand and appreciation for highly marbled, premium grainfed beef in the global market, especially in China, South East Asia and the Middle East. Key suppliers to this segment include Japan, Australia, and the US.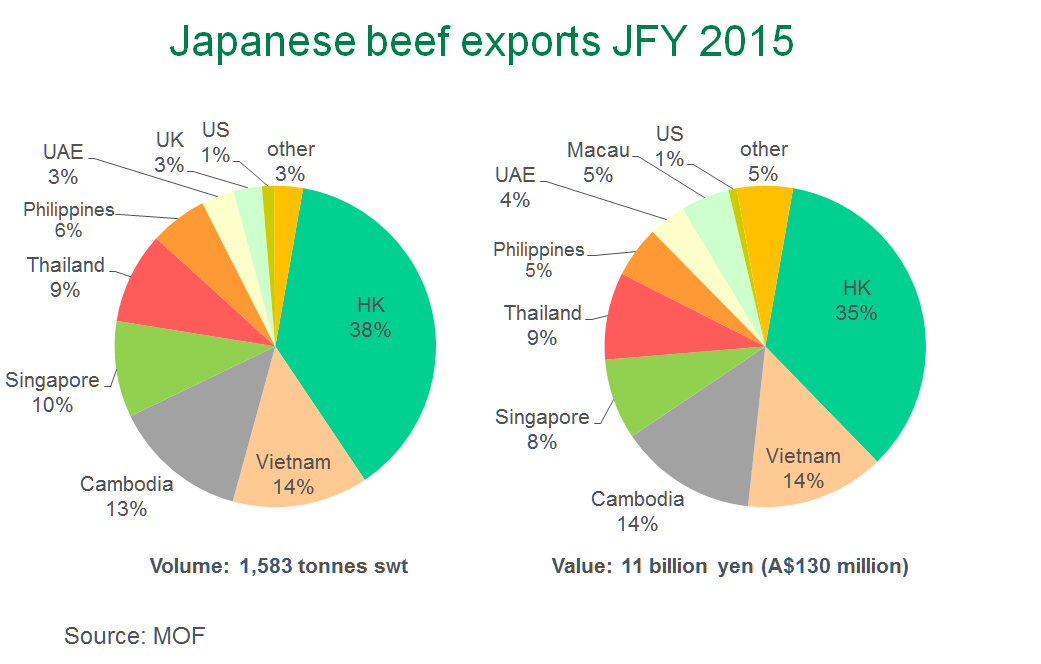 Join myMLA today
One username and password for key integrity and information Systems (LPA/NVD, NLIS, MSA & LDL).
A personalised online dashboard that provides news, weather, events and R&D tools relevant to you.
Customised market information and analysis.
Already registered for myMLA?