Japanese Wagyu beef exports increase
08 October 2015
---
The international profile of Japan's beef exports – predominantly high value Wagyu beef – continues to strengthen this year, with year-to-date shipments totalling 21% higher than the same time last year and exported to over 20 countries.
Albeit a relatively small volume, beef exports reached 890 tonnes swt for the first eight months of 2015, with its average export value per kilo reaching US$56 this year.
Top destinations (by volume) include Hong Kong (305 tonnes swt, up 43% year-on-year), the US (111 tonnes swt, up 28%), Singapore (97 tonnes swt, up 34%), Cambodia (80 tonnes swt, down 56%) and Thailand (59 tonnes swt, up 60%). Small quantities have also been sent to the UK, Netherlands and Germany, responding to niche but growing demand.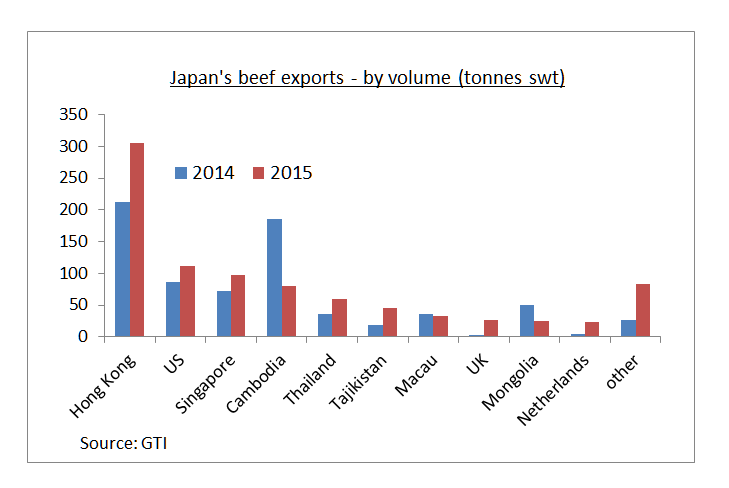 TPP eliminates tariff for Japanese producers
While Japanese Wagyu producers reportedly have some concerns about the impact of the newly agreed Trans Pacific Partnership (TPP), they are also likely to be beneficiaries of the regional free trade framework.
US: Import tariff on Japanese beef will be eliminated in 15 years from the agreement entering into force (EIF).  Quota (no tariff) will be set up during those 15 years, starting from 3,000 tonnes and increasing to 6,250 tonnes in the final year.
Canada: current tariff of 26.5% will be eliminated in 6 years
Mexico: current tariff of 20-25% will be eliminated in 10 years
The Japanese government aims to increase the total value of Japan's beef exports to 25 billion yen (A$275 million) by 2020, from 8.17 billion yen (A$89.8 million) in 2014.
Join myMLA today
One username and password for key integrity and information Systems (LPA/NVD, NLIS, MSA & LDL).
A personalised online dashboard that provides news, weather, events and R&D tools relevant to you.
Customised market information and analysis.
Already registered for myMLA?