Kill weights mitigate beef production decline
09 June 2016
Two interesting trends were evident in the April production and slaughter figures released by the Australian Bureau of Statistics (ABS). Firstly, cattle carcase weights have continued to increase and, secondly, April recorded an increase in the share of females being brought forward to slaughter.
In summary:
Year-to-April beef production was back 15% year-on-year, at almost 711,000 tonnes cwt
Adult cattle slaughter over the same period was 2.47 million head, back 17% year-on-year
Lift in carcase weights
As expected, carcase weights have continued to increase, with parts of the country benefiting from improved seasonal conditions. In addition, there are anecdotal reports of greater numbers of fed cattle being placed on grain for longer periods and to heavier weights – a trend which is also suggested in the latest cattle on feed survey results.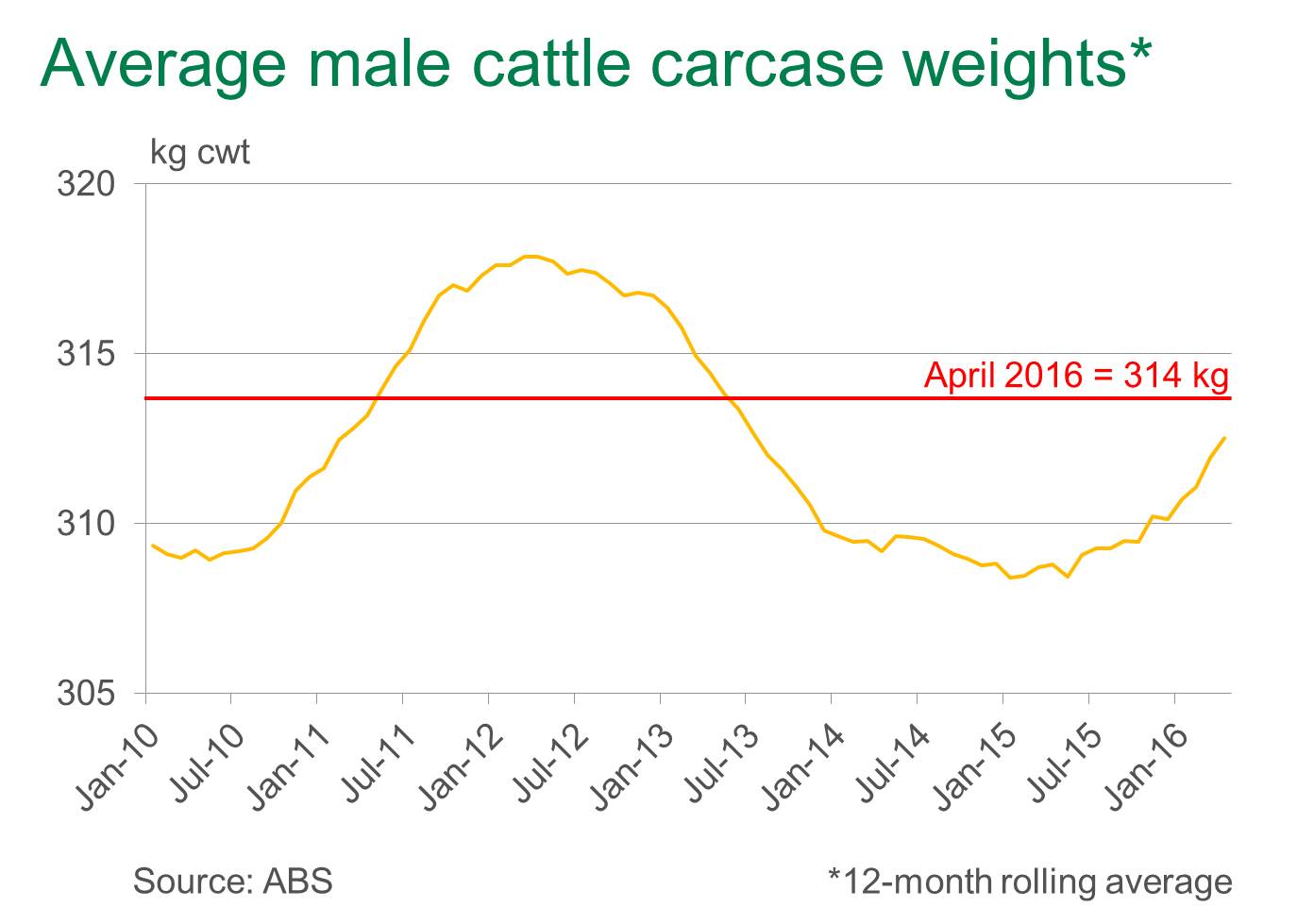 Average adult male carcase weights during the first four months of 2016 averaged 317kg, 7kg heavier than the same period last year. Female carcase weights are also historically high, averaging 253kg over the same period, up 6kg.
While reduced cattle slaughter has resulted in beef production in the first four months of 2016 declining about 125,000 tonnes cwt year-on-year, the decrease would be closer to 150,000 tonnes cwt if carcase weights had not increased this year. This trend is expected to continue, as a result of improved seasonal conditions and tight cattle supplies – as illustrated above there is potential for carcase weights to track higher and to reach levels achieved in 2011 and 2012.
Female portion of kill increases
While year-to-April slaughter figures suggest fewer females are leaving the system and there are intentions to rebuild the cattle herd, April recorded an increase in the overall number being processed and in their share of the total kill – illustrated below.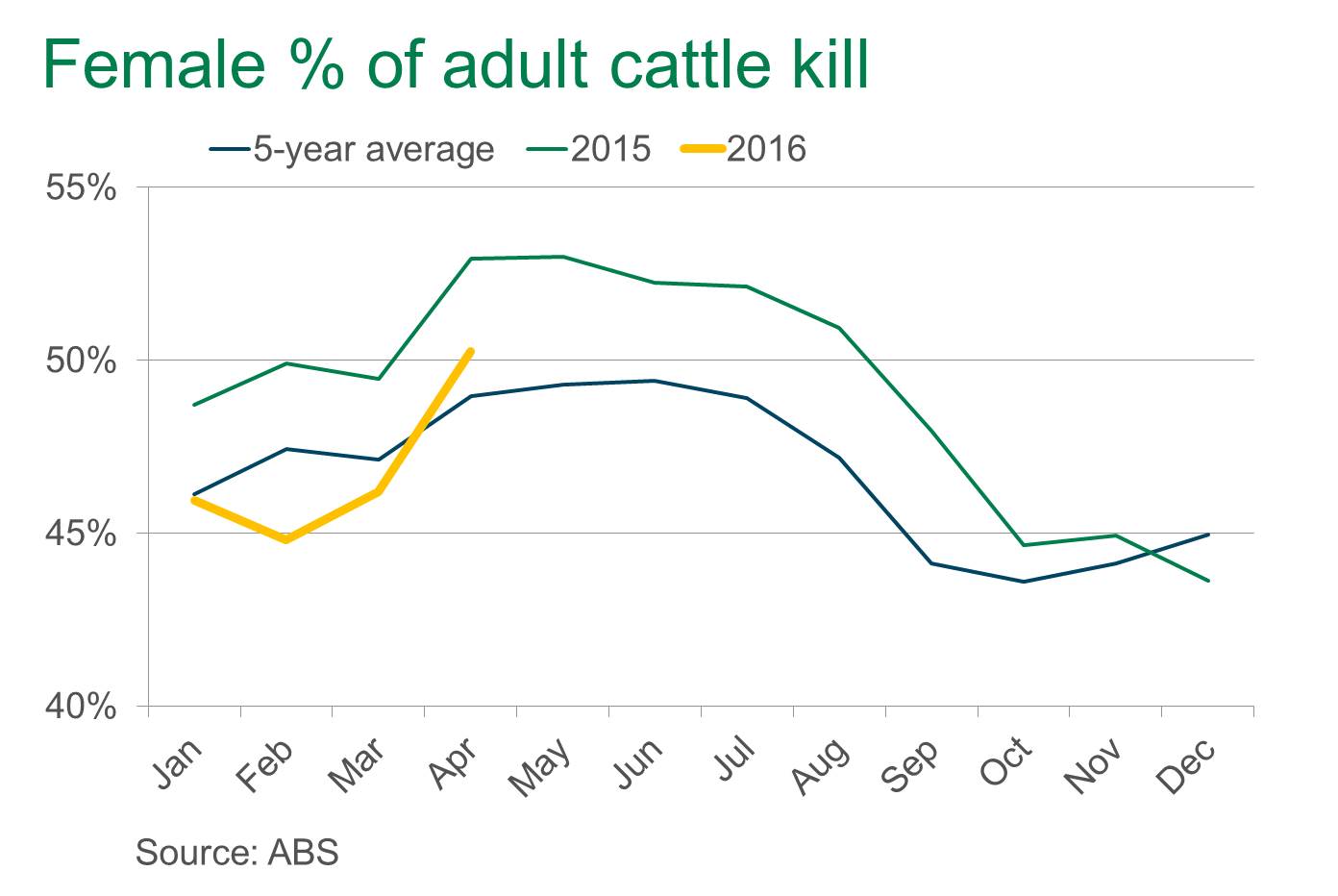 Part of the increase was seasonal however the shift was also due to a relatively larger number of females being turned off in Victoria – potentially representing an increase in the dairy kill but also accentuated by the southern autumn break holding out until May. As illustrated below, Victoria has accounted for 27% of the national female kill so far in 2016, above the five-year average of 23%.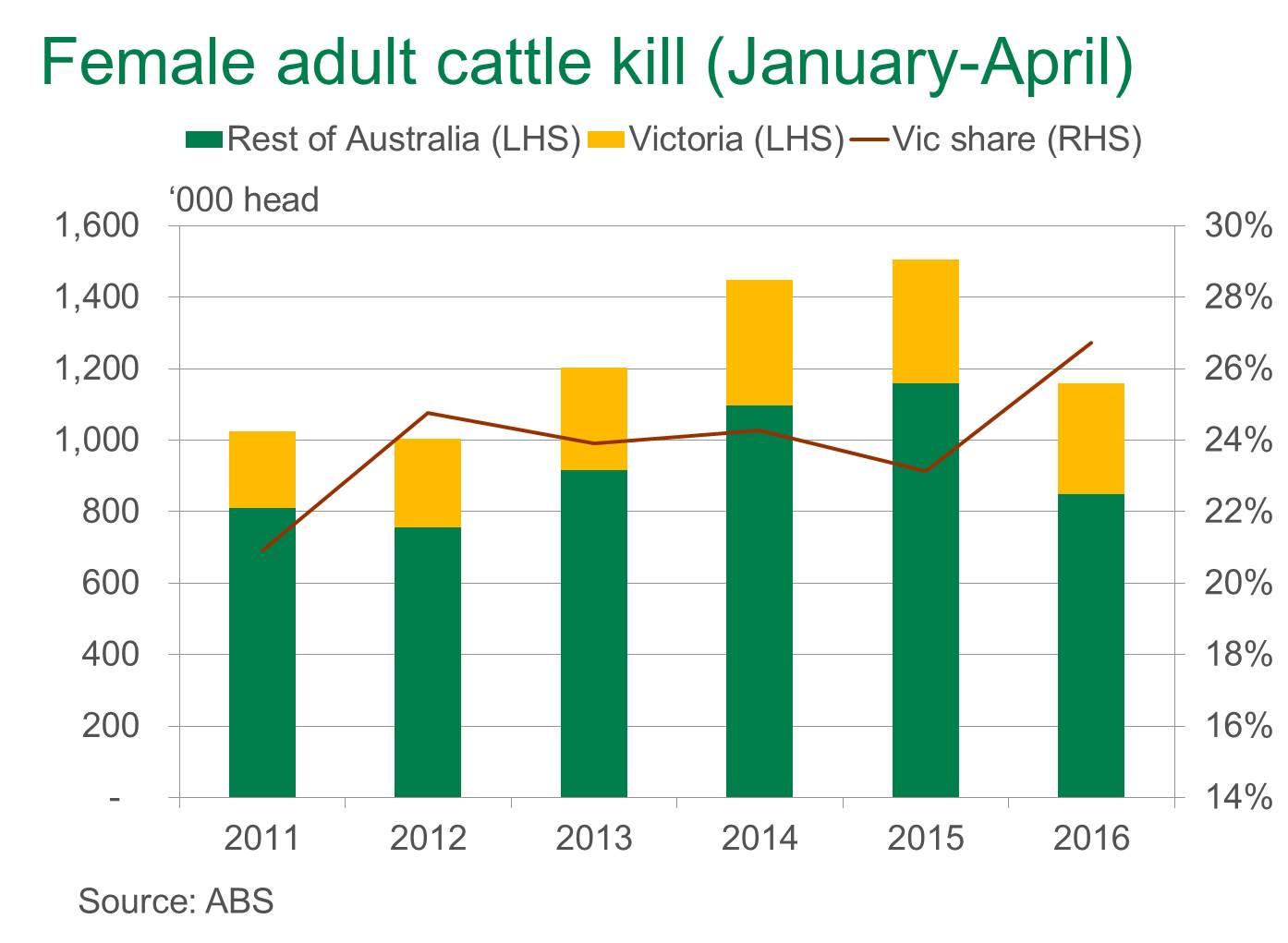 Join myMLA today
One username and password for key integrity and information Systems (LPA/NVD, NLIS, MSA & LDL).
A personalised online dashboard that provides news, weather, events and R&D tools relevant to you.
Customised market information and analysis.
Already registered for myMLA?