Know the numbers - Foodservice
28 November 2017
Understanding Australia's foodservice structure - and its importance to red meat producers - is crucial to the ongoing success of the red meat industry.
Foodservice is traditionally a difficult market to quantify, due to its scale, complexity and fragmentation. Very little census or universal data exists, meaning most estimates rely on surveys of representative samples.
The Rural Industries Research and Development Corporation (RIRDC) commissioned FreshAgenda Pty Ltd to quantify the structure of Foodservice in Australia and its relationship with animal proteins (notably beef, sheepmeat, chicken and pork).
The total value of foodservice (all food & beverage categories) is estimated to be AU$46Billion, of which 85% comprises two channels: fast food and restaurants/pubs/clubs. The remaining 15% comprises of institutions (e.g aged care, education, defence) and takeaway channels.
When comparing value and store numbers of the various foodservice channels, restaurants, clubs and pubs represent more than half of total foodservice value. However, this value is generated by over half of total outlet numbers. In comparison, fast food outlets represent 35% of total foodservice value from only 10% of total store numbers providing a concentrated return and higher value per outlet (Figure 1).
Figure 1: Foodservice: channels and value (all food categories). Click on image to enlarge.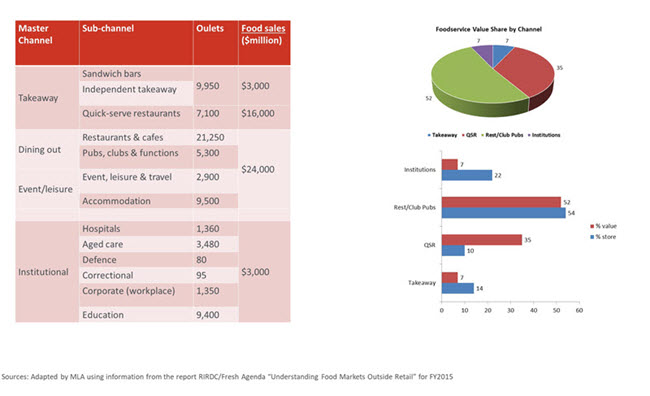 In relation to beef and lamb sold through foodservice channels, there are a number of characteristics evident (Figures 2 & 3):
Figure 2: Red meat in Foodservice: volume. Click on image to enlarge.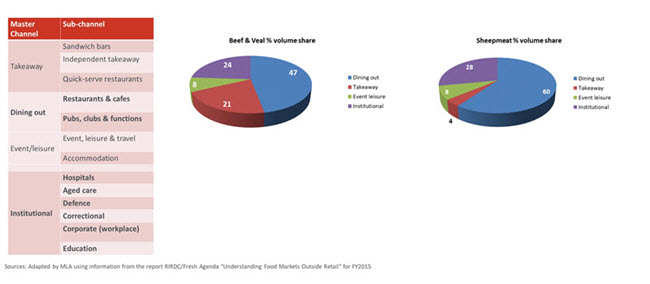 Figure 3: Beef and lamb share of channel across proteins in Foodservice. Click on image to enlarge.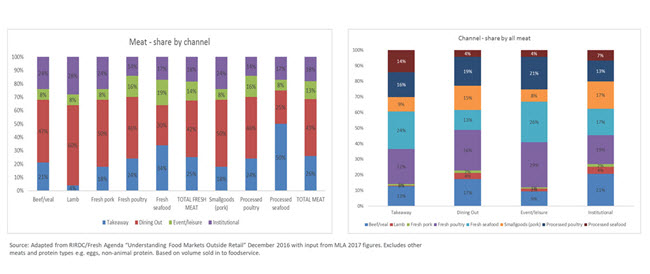 The dining out channel commands a significant proportion of beef and lamb volume sold into foodservice.
68% of beef and veal volume share is in two channels: dining out and takeaway (including fast food). Lamb volume is also strong in dining out (60%) but with only 4% volume in takeaway. This provides an opportunity for future development.
Chicken is ubiquitous across channels with a substantial share in each. Beef is underweight in share of event/leisure; lamb has low volume share in takeaway and event leisure; and pork has a strength in the institution channel followed by dining out.
Understanding the scale and structure of foodservice - and beef and lambs position within it - provides the opportunity for red meat to better target specific channels. Applying foodservice channel strategies over the long term will help to achieve an improved market share for beef and lamb relative to the position of competitive proteins, securing a solid position for the red meat industry in this important sector of the market.
This article is written by MLA's Global Industry Insights & Strategy Team. If you have any queries or feedback, please let us know: globalindustryinsights@mla.com.au.
Join myMLA today
One username and password for key integrity and information Systems (LPA/NVD, NLIS, MSA & LDL).
A personalised online dashboard that provides news, weather, events and R&D tools relevant to you.
Customised market information and analysis.
Already registered for myMLA?