Back to

Prices & Markets
Subscribe to Prices & Markets e-newsletter
For in-depth red meat market news, information and analysis.
SIGN UP
Know the numbers: goat market update
28 November 2018
For the week ending 23 November, eastern states goat slaughter was 13,937 head, down 45% from year-ago levels and remaining below the five-year average.
Slaughter
Year-to-date goat slaughter across the eastern states is 1.13 million head – down 23%, or almost 335,000 head, from the same period in 2017. Victoria has seen the steepest decline in slaughter, down 41% from this time last year, while the number of goats processed in SA and the Queensland/NSW region have reduced by 23% and 7%, respectively.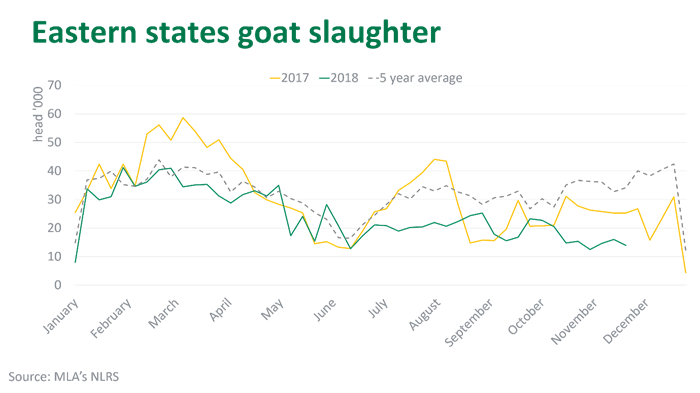 Prices
From May until the end of winter, goat over-the-hooks (OTH) indicators increased steadily, although seemed to have plateaued somewhat during spring. Despite levelling out, the indicator remains above year-ago levels and the five-year average. The 12.1–16kg carcase weight (cwt) OTH indicator has remained stable for the past six weeks at 538¢/kg cwt, an increase of 48¢/kg from where it started at the beginning of the year.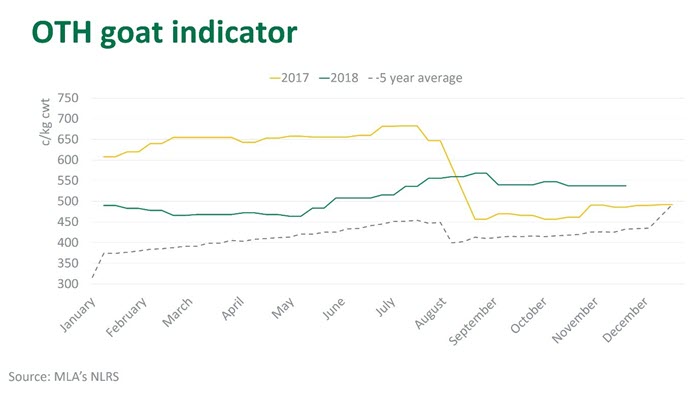 Exports
Year-to-October goatmeat export totalled 18,639 tonnes shipped weight (swt), a reduction of 26%, or more than 6,000 tonnes swt, year-on-year. Australia's biggest export destination for goatmeat is the US, which accounts for 67% of Australia's total goatmeat shipments. Volumes to the US have declined 25% for the year-to-date, compared to 2017, largely due to the reduction in available stock this year.
Australia's other major goatmeat export destinations, Taiwan, Canada, Trinidad and Tobago, have also recorded lower shipments year-on-year.