Korean beef imports to grow to 2030
08 June 2017
Exports of Australian beef to Korea reached record levels in 2016, underpinned by a suite of short and long term drivers.
MLA's Market Information Service released a red meat research report today, focusing on the prospects of the Korea beef market from an Australian perspective. A range of factors suggest record Korean beef imports in 2016 were not outlier, with the market set to hold recent growth and expand further out to 2030.
Click here to read The Korean beef market: Insights and prospects from an Australian perspective
Korea has grown to become a major market for Australian beef over the past two decades – the result of continued trade liberalisation, first in 2001 and more recently through the Korea-Australia Free Trade Agreement (KAFTA).
The newly released report analyses the drivers which have made Korea the largest per capita consumer of beef in Asia and the third most valuable beef export market for Australia. In addition, the report closely examines long-term macro drivers, such as a rising but aging population and falling tariffs on beef imports from all major suppliers.
Australia's longevity in Korea has been built on a reputation of safety and consistency which, in the last decade, has been an overriding differential with other suppliers. The True Aussie brand has become a hallmark of quality for Korean consumers, a symbol of high quality, natural and safe beef.
Key figures from MLA research on the Korean market are summarised below: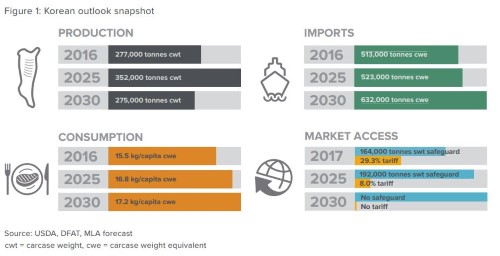 Join myMLA today
One username and password for key integrity and information Systems (LPA/NVD, NLIS, MSA & LDL).
A personalised online dashboard that provides news, weather, events and R&D tools relevant to you.
Customised market information and analysis.
Already registered for myMLA?