Lamb exports recover, mutton surges
14 November 2018
Lamb exports hit 23,000 tonnes swt in October – a strong recovery from the 15,000 tonnes shipped in September. Mutton exports have exploded, reaching the highest monthly volume in over two decades.
Supply dynamics driving shipments
Australia exported almost 23,000 tonnes swt of lamb in October – a strong recovery from the 15,000 tonnes shipped in September but roughly in line with five-year average. The delayed onset of the new season lamb crop largely explains the erratic shipment volumes across the last two months but, with solid numbers now hitting the market in Victoria, exports should remain elevated over November and December.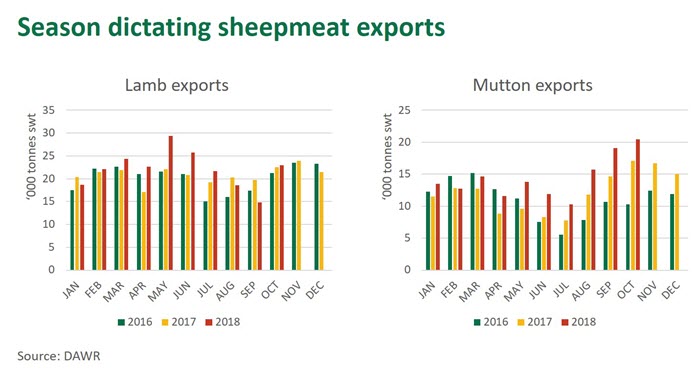 On the other hand, mutton exports have exploded. October shipments were the highest monthly volume in over two decades and broached 20,000 tonnes swt for just the third time since DAWR records started in 1994. Despite some recent rainfall, the ongoing dry conditions saw elevated sheep kills throughout October, keeping smallstock abattoirs busy while lambs and goats were hard to come by.
While many regions are heading into summer with sub-optimal feed, as the lamb kill finds a second wind and the supply of cull ewes begins to dry up, October may mark the peak in mutton exports for the season.
Sheepmeat hitting the market
While seasonal conditions have delayed lamb shipments and elevated mutton exports, the world market has been a willing buyer of both. Since the start of July (typically the seasonal trough in lamb supply), many markets have adapted and covered lamb shortfalls with mutton – such as the US, UAE, PNG and Malaysia. However, other key markets – namely China, Japan, Korea and Qatar – have increased orders of both lamb and mutton over the last four months.
A cooling of lamb prices since August and a softer Australian dollar have supported global sheepmeat demand, while exports have remained elevated thanks to improved conditions in key markets.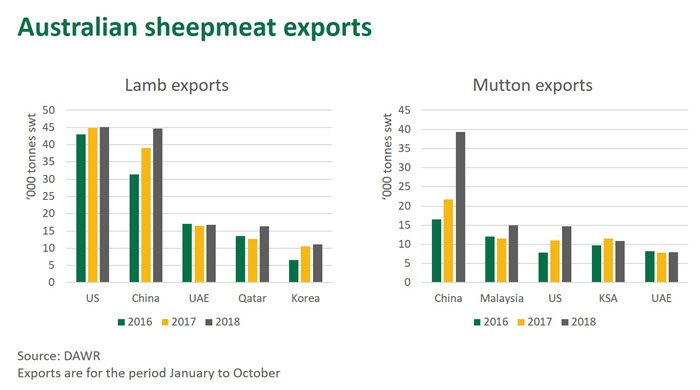 Furthermore, the world sheepmeat market has found support from a revival in demand from China – the world's largest producer, consumer and importer of sheepmeat. Year-to-October Australian sheepmeat shipments to China have expanded 40% year-on-year and have surpassed the previous peak in 2013. New Zealand has been the recipient of the same demand, with year-to-September exports to China up 23% year-on-year.
While China is swiftly coming up behind the US as Australia's highest tonnage lamb market, it lacks the depth of wealthy consumers and cuisine type to draw on Australia's high-value middle cuts and leg roasts – on average, the export price per kilo to the US is twice that of China. US demand has also been strong, supported by a tax-break fuelled economic recovery, and Australia lamb exports to the market are on track to finish this year at record levels.
While Australian red meat exports aren't directly exposed to the escalating US-China trade war – it may feed an economic downturn in either or both of Australia's largest sheepmeat export markets, ultimately hurting the demand that rocketed lamb prices to record levels this year.
Join myMLA today
One username and password for key integrity and information Systems (LPA/NVD, NLIS, MSA & LDL).
A personalised online dashboard that provides news, weather, events and R&D tools relevant to you.
Customised market information and analysis.
Already registered for myMLA?