Lamb exports seasonally tight in July
11 August 2016
In July, Australian lamb exports declined 19% on the year prior, at just short of 14,000 tonnes shipped weight (swt) – with two of Australia's largest markets, the US and the Middle East, both recording lower volumes for the month (Department of Agriculture and Water Resources).
For the calendar year-to-date, however, lamb shipments increased 4% on the same period last year, to 140,922 tonnes swt – driven largely by continued strong demand from the US and re-ignited demand from China, driven by a reduction in domestic sheepmeat inventories.
For the January to July period, compared to last year, shipments to:
The Middle East declined 7% to, 38,025 tonnes swt
The US increased 13%, to 30,952 tonnes swt
China increased 27%, to 23,574 tonnes swt
South East Asia increased 2%, to 7,532 tonnes swt
Papua New Guinea declined 6%, to 7,521 tonnes swt
The EU decreased 8%, to 5,284 tonnes swt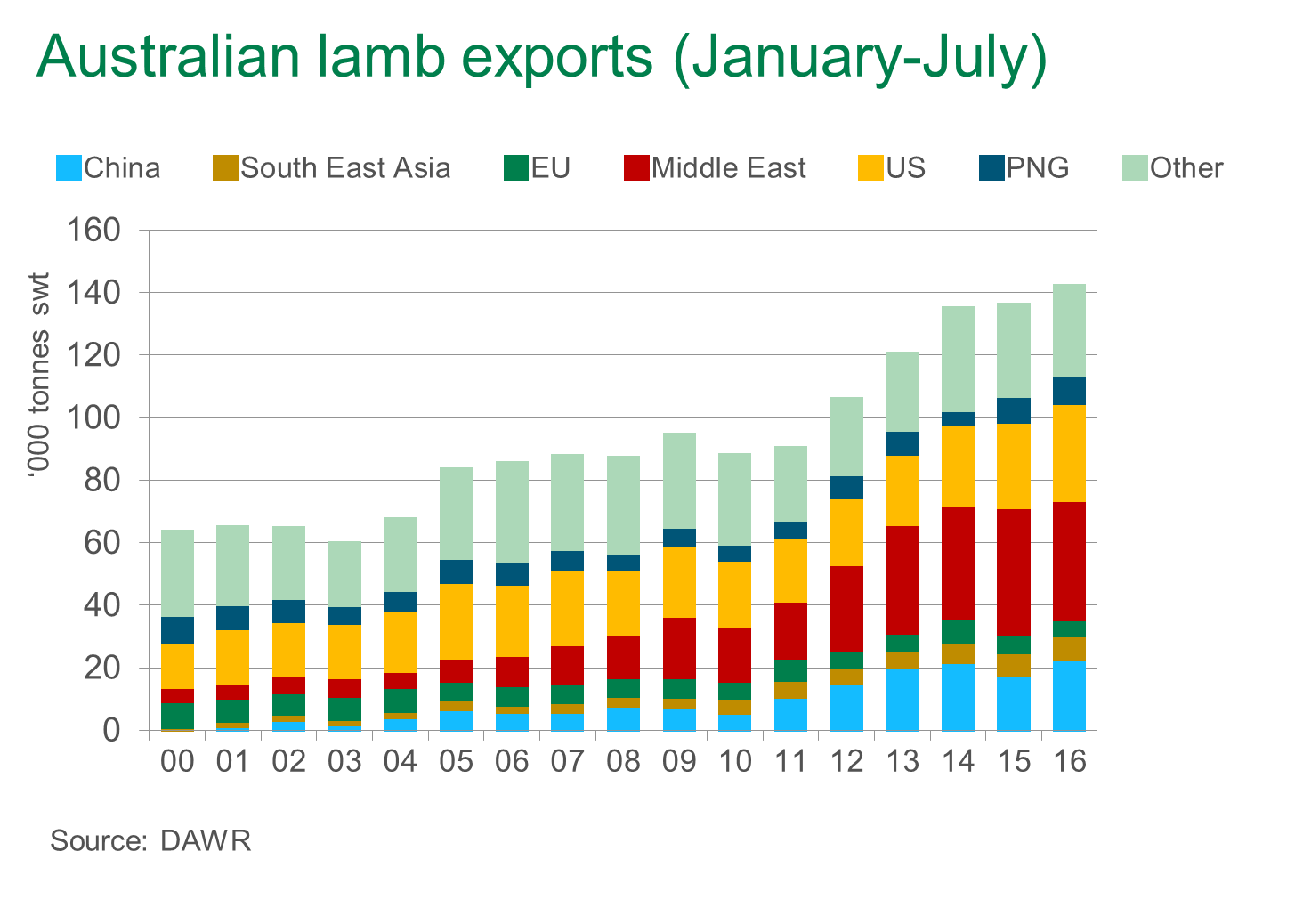 A late autumn break, which continued through the beginning of winter, has seen favourable growing conditions across many key producing regions of the country – boosting producer sentiment and the market alike. Looking forward, 2016 Australian lamb exports are forecast to lift 3% year-on-year, to 240,000 tonnes swt – supported by strong international demand and an increase in lamb production forecast for the year (511,000 tonnes cwt).
Australian mutton exports totalled just over 5,300 tonnes swt in July – back 38% year-on-year. This brought the total volume for the January to July period to 78,821 tonnes swt – 7% lower than the same time last year. For the year-to-date, exports to the Middle East (29,244 tonnes swt), China (12,318 tonnes swt), and South East Asia (14,282 tonnes swt) fell 4%, 26% and 1%, respectively. Lower sheep availability has largely contributed to the decline in shipments in 2016, with mutton production for the January to June period (latest data available) down 6% year-on-year, at 86,829 tonnes cwt (ABS).
To view the MLA 2016 Sheep Industry Projections July Update, click here.
Join myMLA today
One username and password for key integrity and information Systems (LPA/NVD, NLIS, MSA & LDL).
A personalised online dashboard that provides news, weather, events and R&D tools relevant to you.
Customised market information and analysis.
Already registered for myMLA?