Lamb OTH respond to saleyard increases
06 February 2020
Key points:
Restocker lamb indicator reached a record high this week surging past 920c/kg
The national heavy mutton over-the-hook indicator also reached a record high, lifting above 550c/kg
Follow up rainfall could see prices rise further as supplies tighten.
Lamb over-the-hook (OTH) indicators have seen notable increases across the eastern states this week. However, saleyard prices have increased to a greater extent and the rise represents a significantly earlier increase than would ordinarily be expected. Mutton OTH indicators have also moved into record territory.
The national trade lamb indicator this week averaged 808 c/kg cwt, a 64c/kg premium to the national medium trade lamb OTH indicator which finished at 744c/kg cwt – it's not uncommon for OTH quotes to lag prices seen in the saleyards. OTH heavy lambs also followed an upwards trend, in response to elevated saleyard prices since the start of the year, with processors competing strongly for heavier lambs. The restocker lamb indicator has been the standout, surging to new highs this week finishing at 924c/kg in response to improving feed prospects.
In 2018 and 2019 prices started to lift at the start of autumn and through winter, when lamb supply tightened. However, this year prices have tracked upwards since early January following widespread rainfall across eastern Australia. Processors and restockers are increasingly competing for limited availability of lambs and as the supply contracts in the next few months, prices will likely find continued support.
For the week ending 7 February, the over-the-hook trade lamb indicators averaged the following:
NSW: 748¢ - up 54¢/kg cwt
Victoria: 770¢ - up 98¢/kg cwt
SA: 758¢ - up 81¢/kg cwt
WA: 685¢ - up 25¢/kg cwt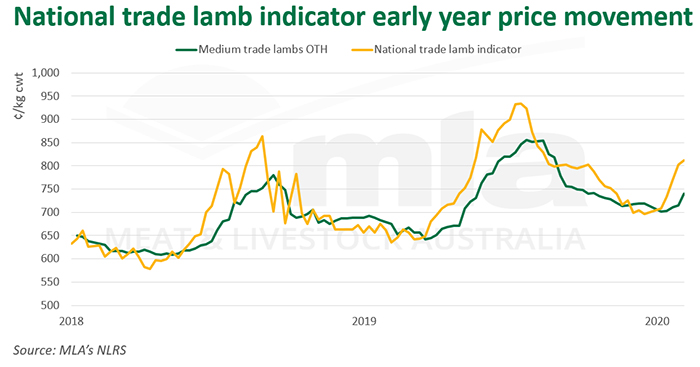 Mutton OTH
The national heavy mutton OTH indicator has increased 41% year-on-year to finish at 551.4c/kg this week - the highest on record. Following recent rainfall, sheep yardings have contracted as producers look to retain more sheep on-farm. The medium sheep OTH followed a similar trend, rising 42% above the same week last year to finish at 551.4c/kg.
Sheep and lamb supplies have started to diminish, as producer intentions to rebuild are lifting. Combined with strong global demand, mutton and lamb prices could enter unchartered territory in 2020.
For the week ending 31 January, sheep and lamb slaughter figures totalled:
NSW
Sheep: 48,605 head – down 9,415 (16%) year-on-year
Lamb: 77,699 head – down 8,232 (10%) year-on-year
VIC
Sheep: 51,930 head – down 3,106 (6%) year-on-year
Lamb: 157,479 head – down 13,416 (8%) year-on-year
SA
Sheep: 7,573 head – down 10,596 (58%) year-on-year
Lamb: 43,113 head - down 7,744 (15%) year-on-year
WA
Sheep: 31,306 head – up 10,538 (34%) year-on-year
Lamb: 44,067 head – down 2141 (5%) year-on-year
© Meat & Livestock Australia Limited, 2020
Join myMLA today
One username and password for key integrity and information Systems (LPA/NVD, NLIS, MSA & LDL).
A personalised online dashboard that provides news, weather, events and R&D tools relevant to you.
Customised market information and analysis.
Already registered for myMLA?