Lotfeeding outlook
01 June 2017
Record numbers on feed
Cattle on feed at the end of the March 2017 quarter increased almost 81,000 head (or 8%) from the December quarter, to a record 1,016,000 head, according to results from the latest ALFA/MLA lot feeding survey.
High cattle prices and cheap grain have incentivised lot feeders to retain cattle for longer, while continued dry conditions across much of Queensland has seen greater numbers placed on feed.
Numbers on feed across all states increased 11% year-on-year:
NSW increased 13% year-on-year, to 329,000 head
Queensland advanced 12% year-on-year, to almost 557,000 head
Victoria declined 5% year-on-year, to 60,000 head
SA increased 19% year-on-year, to 30,000 head
WA increased marginally on last year, to 41,000 head
Historical perspective
Numbers on feed surpassed one million head for the first time, the culmination of ten years of growth in the feedlot industry. As illustrated below, first quarter figures were 18% higher than the 5-year average.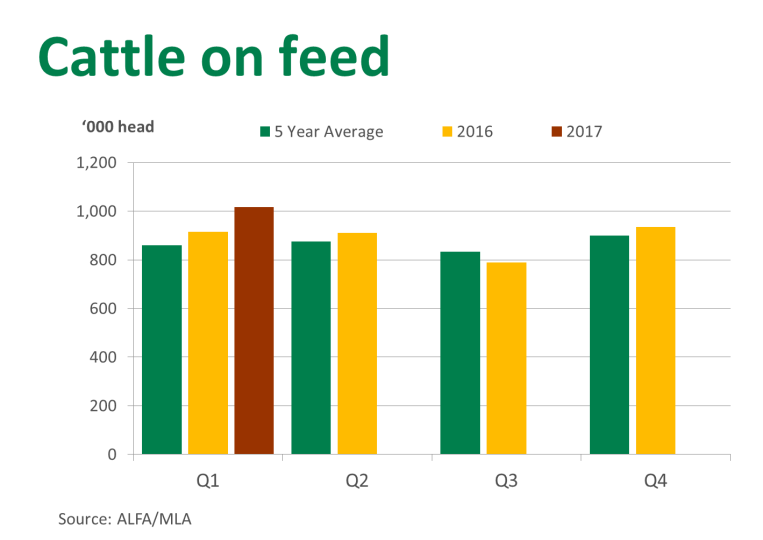 The new record surpasses the previous peak in 2006 (prior to 2014), when Australian feedlots expanded aggressively following the US loss of access to Japan and Korea due to BSE. However, the progressive re-entry of the US into both markets saw numbers on feed subside. They have steadily recovered since, with the increased presence of short fed cattle for the domestic market and growing appetite for grainfed beef globally.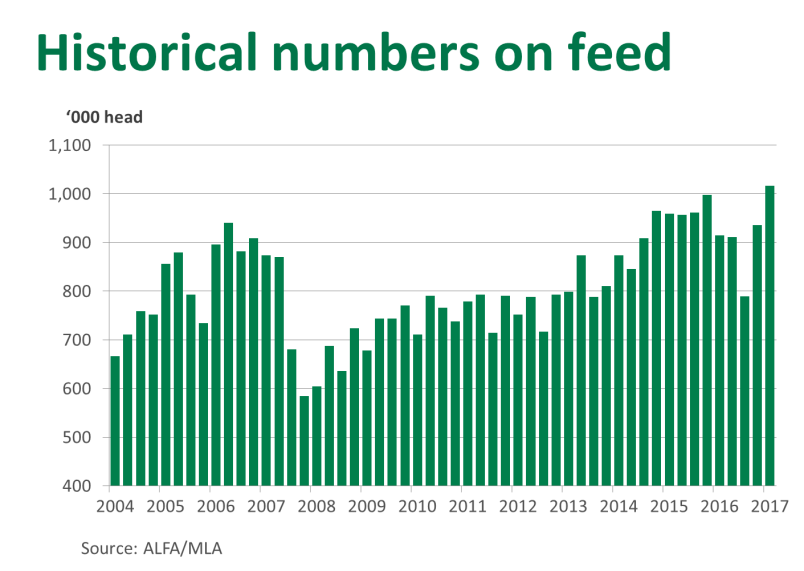 A balancing act
Strong competition from restockers over a reduced pool of cattle has seen prices maintain their high levels. The national saleyard feeder steer indicator has averaged 343¢/kg lwt since the turn of year – 10% higher compared with year-ago levels. Finished cattle prices have also increased over the same period but have failed to keep pace with the feeder market; the Queensland 100-day grainfed steer indicator has averaged 545¢/kg cwt so far this year, up 3% year-on-year.
Low grain prices continue to partially offset the cost cattle, with high domestic and global grain supplies forecast to keep grain cheap. Darling Down wheat prices averaged $280/tonne in May, 8% lower year-on-year. ABARES, in their Agriculture Commodities: March quarter 2017, forecast average annual wheat (APW 10 net pool return) prices to track between $270-280/tonne out to 2020.
Seasonal conditions will continue to drive numbers on feed moving through the rest of the year. With large parts of Queensland still drought declared, should conditions deteriorate further over the winter months; elevated numbers will continue to be placed on feed.
Export mix shifts to grainfed
Grainfed cattle turnoff increased 9% on the previous quarter and was 11% higher year-on-year. With the herd in recovery mode, grassfed cattle slaughter has continued to contract, with the grainfed portion accounting for an unprecedented 42% of the national kill in the March quarter.
The shift in the kill has also been reflected in the export mix. The grainfed portion of total Australian beef exports during the March 2017 quarter was 28% – the equal highest proportion with that of 2007, which came as a result of a widespread dry period and subdued US competition in Korea and Japan.
Join myMLA today
One username and password for key integrity and information Systems (LPA/NVD, NLIS, MSA & LDL).
A personalised online dashboard that provides news, weather, events and R&D tools relevant to you.
Customised market information and analysis.
Already registered for myMLA?