Meet MSA's new Producer Engagement Officer
18 April 2018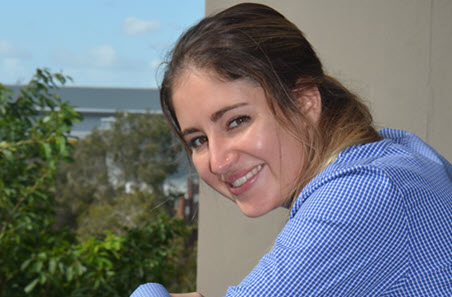 A keen interest in the science and on-farm factors which influence eating quality has now become a full-time career for Laura Wishart, the new Meat Standards Australia (MSA) Producer Engagement Officer with Meat & Livestock Australia.


Laura took over the role in January from Jarrod Lees, who is now a MSA Business Development Officer.


For Laura, working in the red meat industry and particularly for MSA is the realisation of her "dream job", having first-hand experience in many facets of the supply chain.


"I grew up on a mixed farming enterprise on the south coast of Western Australia near Bremer Bay, and my interest has always been in cattle," Laura said.


"We have a 1,000-head Angus breeding herd and a little feedlot, so you could say it's in my blood."


After finishing school, Laura started studying Law before moving to Agricultural Science.


"I knew I wanted a more practical business focus, so I did a Bachelor of Business majoring in Agriculture at Marcus Oldham in Victoria," Laura said.


"In my second year at university I did an 11-month, full-time industry placement with JBS, based in Melbourne, working in their farm assurance program. That involved working with the JBS buyers, supply chain manager and JBS beef and sheep producers. Specifically, it introduced producers to carcase feedback systems, including Livestock Data Link."


While at university, Laura was also involved in the Australian Intercollegiate Meat Judging Association (ICMJ) program, which educates students about meat quality, carcase specifications and provides training and guidance for personal development.


Laura competed in the ICMJ competition as part of the Marcus Oldham team in her first year at university, before going on to coach the Marcus Oldham ICMJ team for the next two years.


"I was always interested in eating quality and the science behind it, especially when I started to understand how much went into it," Laura said.


"I also really liked the grounding of working with producers during my time with JBS."


Laura said she's looking forward to working with producers and stakeholders in the supply chain in her role with MSA.


"For a lot of producers, being part of the MSA program can have a positive financial impact on their businesses and there's a growing interest in improving the eating quality of their consignments," Laura said.


"I feel there's a real hunger for knowledge. Producers have heard about MSA and what creates non-compliance, but they want to drill deeper and learn more about what they can do on-farm to really improve eating quality and compliance, and I'm looking forward to helping them do that."


If you have any questions for Laura or to organise training,
email Laura
or phone 1800 111 672.
Join myMLA today
One username and password for key integrity and information Systems (LPA/NVD, NLIS, MSA & LDL).
A personalised online dashboard that provides news, weather, events and R&D tools relevant to you.
Customised market information and analysis.
Already registered for myMLA?