Meet the LMO: David Kent
07 March 2019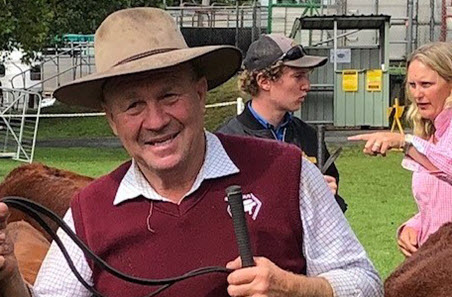 Twenty-six Livestock Market Officers (LMOs) currently work across Australia as part of MLA's National Livestock Reporting Service. Covering more than 3,000 markets a year and thousands of kilometres between them, LMOs attend and report on up to 70 of the nation's cattle, sheep and goat sales on a weekly basis.
This week, we talk to David Kent about his sales patch in Kangaroo Valley, NSW, and how the markets are tracking.
What regions do you cover and where are you based? What are your regular markets and do you work anywhere else?
I'm based in the Kangaroo Valley and cover the weekly Moss Vale market on a Wednesday. I also run around 150 Red and Black Angus breeders which keeps me out of mischief.
What are some of the challenges or opportunities for livestock producers in your part of Australia right now?
I think managing increasing costs of inputs such as fertiliser, feed and herbicides is creating a real challenge for producers. We know the benefits of using fertiliser or feeding stock but it's difficult to weigh up the expense and risk, particularly when you're faced with seasonal and market volatility.
We certainly can't complain about the season here in Kangaroo Valley – we're experiencing the best summer we've had in 10 years but would love to see more widespread rains across the whole state.
Opportunities continue to exist if the producer can meet the market demands of the buyers. Australia's cattle industry is highly regarded throughout the world and producers need to uphold this reputation by producing a high quality product.
What's a hot topic around the catwalks of the saleyards you cover at the moment?
Softening cattle prices, particularly for finished cattle, is a hot topic for us. I think everyone is talking about not getting enough for finished cattle and there's a question mark over how long the feedlot job is going to hang in there. Are there going to be enough females? And of course the weather is always a hot topic!
What's the best part about your job?
Catching up with the different characters and listening to their stories. I enjoy the interaction with the buyers, producers, the saleyard staff and even the agents. They are all good people. It's an amazing place. I find looking at the different types of cattle and keeping up with the latest market trends very interesting.
When you're not at the saleyards, where would we find you?
Running my own farm and entering some cattle in the local shows. It's always a bit of fun.
What's your favourite red meat meal?
I love all red meat! But the Cattleman's Cut with a glass of red would have to be my favourite. Although Osso Bucco done in the slow cooker in winter is also hard to beat.
Join myMLA today
One username and password for key integrity and information Systems (LPA/NVD, NLIS, MSA & LDL).
A personalised online dashboard that provides news, weather, events and R&D tools relevant to you.
Customised market information and analysis.
Already registered for myMLA?