Meet the LMO: John Testrow
28 February 2018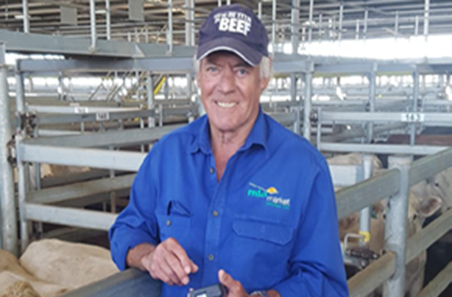 Twenty-six Livestock Market Officers (LMOs) currently work across Australia as part of MLA's National Livestock Reporting Service. Covering more than 3,000 markets a year and thousands of kilometres between them, LMOs attend and report on up to 70 of the nation's cattle, sheep and goat sales on a weekly basis.
Here we talk to WA's John Testrow about his sales patch and what he gets up to when he's not at the saleyards.
What regions do you cover and where are you based?
I'm based in Bunbury, and cover the Boyanup and Muchea regions. I also relieve at Katanning and Mount Barker.
What trends have you been seeing at the markets over the past few months?
For the month and a half prior to Christmas, new season weaners under 400kg were down 30 cents and 50 cents for weaners over 400kg – that's against the previous year. The last of the designated weaner sales ended on a strong note in February. Over the last two and a half months we've seen some very strong live export demand.
Boyanup store cattle sales of 1,300 head/fortnight will continue throughout the year, heavily weighted towards Friesian steers and yearling beef breeds. At Muchea, the yardings have remained near 2,000 head/week.
What part of your role presents the biggest challenge?
Making sure you get your facts and figures right – ensuring weights and values are within scope.
How long have you been a Livestock Market Officer and what made you want to work in this field?
I've been a LMO for four years, but was previously working as a livestock auctioneer selling at the major centres in South Australia, Victoria and Western Australia. I thought a new career with MLA would be a good fit. Some extensive training under one of our excellent LMOs in NSW, David Monk, made me want to stick to the job and I've enjoyed my role ever since.
When you're not at the saleyards, how do you keep busy?
Golf, gardening, fishing and running grandkids around.
What's your favourite red meat meal?
I'm a lamb lover – cooked medium rare.
More information:
Email marketinfo@mla.com.au
Join myMLA today
One username and password for key integrity and information Systems (LPA/NVD, NLIS, MSA & LDL).
A personalised online dashboard that provides news, weather, events and R&D tools relevant to you.
Customised market information and analysis.
Already registered for myMLA?