Meet the LMO: Rob Pearce
19 September 2018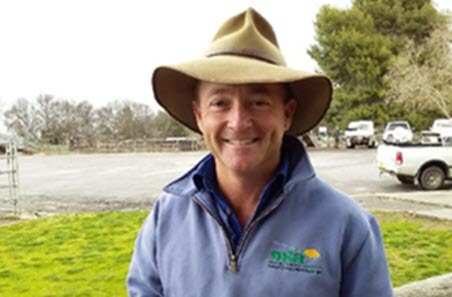 Twenty-six Livestock Market Officers (LMOs) currently work across Australia as part of MLA's National Livestock Reporting Service. Covering more than 3,000 markets a year and thousands of kilometres between them, LMOs attend and report on up to 70 of the nation's cattle, sheep and goat sales on a weekly basis.
This week, we talk to well-known LMO, Rob Pearce, about his sales patch in NSW and how the markets are tracking.
Where are you based and what regions do you cover?
I'm based at Canowindra in central west NSW and cover Cowra sheep and lamb sales. I provide support at other sheep selling centres when required including Wagga Wagga, Dubbo, Forbes, Carcoar and Corowa.
What trends have you been seeing at your markets recently?
Amazing prices for lambs that just keep rising. For example, at Wagga Wagga over recent weeks we've seen prices rise from $8.50/kg up to $10/kg. They've backed off to around $8.50/kg now, but it's been remarkable watching record prices continue to topple.
At Cowra recently, we had a top price of $250/head for new season lambs, smashing the previous record of $185/head, and hardly anyone seemed surprised. Griffith on the same day also set a new record of $260/head. What was once considered extraordinary seems to have become the norm.
What's a hot topic around the catwalks of the saleyards at the moment?
Supply is generating a lot of concern, particularly among agents and buyers. There are still supplementary-fed lambs and new season lambs available, but a lot of people are asking where the really good lambs are going to keep coming from.
There are a lot of lambs in the middle that are lacking finish but still making good prices.
What's the best part about your job?
I've been a market reporter for 15 years and I still enjoy getting out and about, talking to people and seeing the difference in livestock coming through the various selling centres.
When you're not at the saleyards, where would we find you?
On the family farm which I run with my brother. It's a predominantly cropping business, growing wheat and canola, as well as opportunity livestock production. We've got a few more lambs than we ordinarily would have at the moment because of the returns.
What's your favourite red meat meal?
Roast lamb, of course!
Join myMLA today
One username and password for key integrity and information Systems (LPA/NVD, NLIS, MSA & LDL).
A personalised online dashboard that provides news, weather, events and R&D tools relevant to you.
Customised market information and analysis.
Already registered for myMLA?