Modest lift in A$ but still historically low
06 September 2016
After dipping below 71US¢ in May the Australian dollar steadily increased throughout June, July and the first half of August, on the back of US$ weakness and a modest recovery in export commodity prices. After peaking at about 77US¢ three weeks ago, the Australian dollar has retreated slightly to 76US¢ – mostly unaffected by today's RBA decision to leave the cash rate unchanged at 1.50%.
Over a longer horizon, however, the A$ is well below where it was in 2011 and 2012, as illustrated in the figure below. Given Australia exported 75% of beef production, 56% of lamb production and 91% of mutton production last fiscal year, movements in the dollar can have a significant impact on Australian livestock markets, with a lower A$ assisting Australian red meat competitiveness in our export markets.
The figure below illustrates the A$ (AUD/USD) currently valued 23% below where it tracked at the start of 2011, however the Brazilian Real (BRL/USD) has almost halved over the same period, with the sharp drop in commodity prices having a far greater impact on the currency and economy.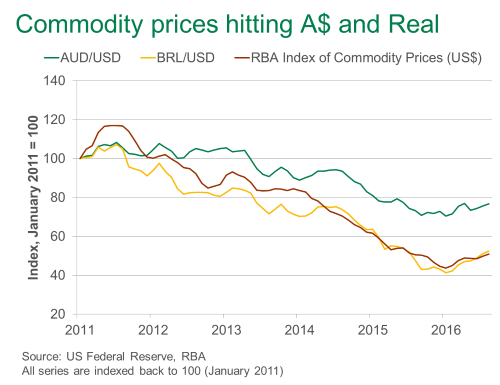 While the A$ is lower against the greenback, the Brazilian currency is even more so, supporting the 13% year-on-year increase in January-July beef exports from the South American nation. In contrast, however, the A$ has depreciated by a greater extent than its New Zealand counterpart which, less affected by commodity prices, is back just 6% since the start 2011.
The good news for exports is that two of the four major commercial banks are forecasting the A$ to steadily decline to approximately 70US¢ by this time next year. In addition, Business Monitor International (BMI) also believe the A$ is trading at 6% above its fair value. However, forecasting currency can be difficult and the A$ has defied most predictions so far this year.
Furthermore, Australian has faced far greater competitive pressure on the world beef market, than movements in currency, from increasing US production and exports. The A$ would need to fall below 70US¢ to restore the historical spread between US and Australian beef export unit values.
Join myMLA today
One username and password for key integrity and information Systems (LPA/NVD, NLIS, MSA & LDL).
A personalised online dashboard that provides news, weather, events and R&D tools relevant to you.
Customised market information and analysis.
Already registered for myMLA?