NZ lamb production finishes lower for 2015-16
01 November 2016
In September, New Zealand (NZ) lamb production decreased 6% on what was recorded the same time last year – at 15,991 tonnes cwt (Statistics NZ).
This brought the 2015-16 NZ season (October to September) to a close, with lamb production for the 12 months down 3% year-on-year, to just over 371,900 tonnes cwt. Total NZ lamb slaughter finished 5% lower at the end of the October to September period, with just over 20.2 million head processed – underpinned by lower availability.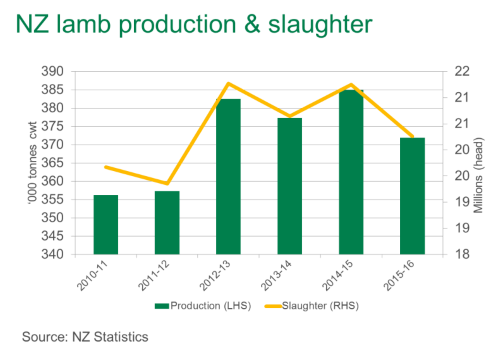 Largely supported by solid demand from China and the China-New Zealand Free Trade Agreement (FTA), NZ lamb exports finished marginally higher for the October to September period – at just over 303,100 tonnes swt.
Compared to the previous year, lamb exports to;
China increased 11% – to 96,412 tonnes swt
the UK increased 1% – to 60,080 tonnes swt
the US decreased 2% – to 19,199 tonnes swt
Germany declined 5% – 17,227 tonnes swt
the Netherlands increased 20% – to 15,780 tonnes swt
As highlighted in Beef + Lamb NZ's New Season Outlook, a rebuilding NZ sheep flock and reduced lamb crop forecast in 2016-17 will reportedly contribute to a 2% decline in lamb production in the upcoming season – to 357,700 tonnes cwt. Looking forward, Beef + Lamb NZ anticipate lower lamb exports for 2016-17, at 291,000 tonnes – reflective of reduced production.
Join myMLA today
One username and password for key integrity and information Systems (LPA/NVD, NLIS, MSA & LDL).
A personalised online dashboard that provides news, weather, events and R&D tools relevant to you.
Customised market information and analysis.
Already registered for myMLA?