NZ sheepmeat exports remain above year-ago levels
30 August 2016
In July, New Zealand (NZ) lamb exports totalled just shy of 17,400 tonnes swt – down 22% on the same time last year (Statistics NZ).
However, lamb shipments for the October to July period increased 5% on the corresponding period the year prior, at just over 278,300 tonnes swt, with only a few months to go until the end of the NZ season (September).
The overall rise in volume was driven predominantly by stronger demand from China, although most other major markets also recorded growth for the season-to-date:
China increased 18%, to 90,574 tonnes swt
the UK increased 4%, to 56,192 tonnes swt
the US increased 3%, to 16,929 tonnes swt
Germany decreased 2%, to 15,426 tonnes swt
the Netherlands increased 23%, to 14,356 tonnes swt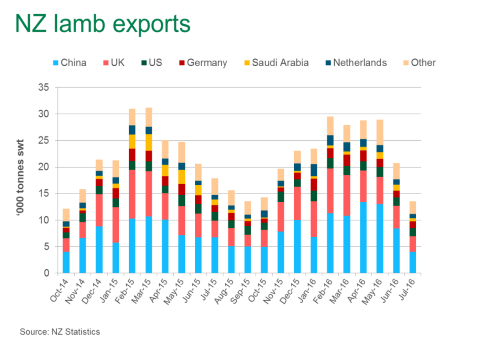 NZ mutton exports in July were 34% lower than the year prior, at 4,114 tonnes swt. For the October to July period, however, mutton exports increased marginally (1%) to 75,781 tonnes swt. Lower shipments to China (down 7%, to 40,007 tonnes) so far this season were somewhat offset by greater volumes to the UK and Taiwan, up 7% and 40%, to 6,380 tonnes swt and 7,115 tonnes swt, respectively.
More recently, AgriHQ report that despite an increase in exports so far this season, weaker consumer demand for lamb in the UK, as well as an expected lift in UK domestic production, has created some uncertainty for exporters for the coming months. Furthermore, the weaker British pound has seen NZ lamb become expensive compared to domestic product in the UK, and as a result some exporters are reportedly opting to divert product to alternative markets. For NZ producers, however, historically low NZ inventories are likely to keep market prices buoyant in the short term.
Join myMLA today
One username and password for key integrity and information Systems (LPA/NVD, NLIS, MSA & LDL).
A personalised online dashboard that provides news, weather, events and R&D tools relevant to you.
Customised market information and analysis.
Already registered for myMLA?