Outlook dry to July
02 May 2017
Rainfall is likely to be below average for many of the key sheep and cattle producing regions of Australia for the May to July period. The Bureau of Meteorology indicates there is a higher likelihood of a drier than average season for the southern two-thirds of the country, with an over 75% chance for southeast Australia in particular.
Tasmania and the Top End (NT) are the exceptions, having an almost even chance of a wetter or drier three months. It should be noted that this time of year is typically a lower rainfall period for northern Australia, as May marks the official beginning of the dry season. Large parts of northern Australiahave a median rainfall of 10mm or less over the three months.
Rainfall in May, in particular, is looking to be well-below average for large parts of the country, while the outlook for June is more neutral – especially for WA, SA and along the southeast coastline.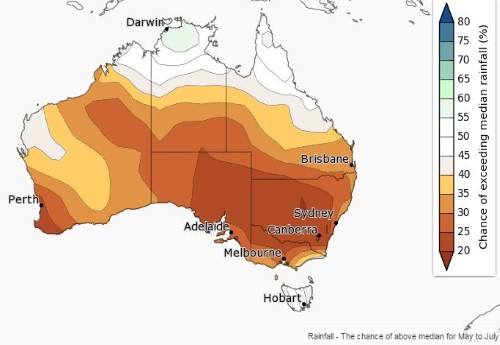 Source: Bureau of Meteorology
As well as drier conditions for the May to July period, temperatures are likely to be above average for most of the country. The exception is the Top End, which is likely to experience cooler night and day temperatures.
This outlook is reflective of warming sea surface temperatures in the tropical Pacific and a cooler Indian Ocean.
Join myMLA today
One username and password for key integrity and information Systems (LPA/NVD, NLIS, MSA & LDL).
A personalised online dashboard that provides news, weather, events and R&D tools relevant to you.
Customised market information and analysis.
Already registered for myMLA?