Policy shift fails to see material change in Argentine beef exports
28 March 2017
A range of previously export-prohibitive policies were removed by a newly elected Argentine government at the end of 2015. However, due to a range of factors, the liberalised beef industry has failed to return to the powerhouse it once was, evident by 2016 trade figures.
Argentina is a large producer and consumer of beef. With about 53 million head of cattle (USDA FAS), Argentina has the 6th largest herd in the world – behind India, Brazil, China, the US and the EU. However, the domestic market consumes the vast majority of Argentine beef, with annual beef consumption at 40.4kg/capita retail weight (2015 OECD estimate) – second only to Uruguay.
As outlined in ABARES' South America: An emerging competitor for Australia's beef industry (2016), the Argentine government previously applied export taxes and quantitative restrictions on beef exports – with the policy goal of keeping beef affordable for Argentine consumers. In addition, the Argentine peso was also artificially supported, dampening the attractiveness of the export market. While sporadic, Argentina was a significant player in the global beef market in the early 2000's. In 2004 and 2005, Argentina was the third largest exporter in the world, behind Brazil and Australia; in 2016, this position had slipped to twelfth.
While the aforementioned policies have been removed, exports have failed to respond significantly. In 2016, exports rose 17%, to 154,000 tonnes swt, but off a low base they remain well below the peaks of the previous decade, as illustrated below.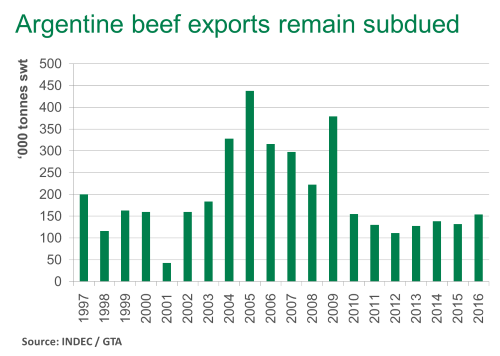 A range of reasons have limited export growth. Firstly, despite the currency devaluation, Argentine cattle are still expensive by global standards and especially in comparison with their South American neighbours. The Argentine heavy finished steer indicator averaged 180US¢/kg live weight two weeks ago (IPCVA), 17%, 8% and 9% above similar indicators in Brazil, Paraguay and Uruguay, respectively. Visit MLA's statistics database for detailed historical global cattle price indicators.
Furthermore, as highlighted in the USDA FAS Argentina GAIN report (September 2016), short term production growth has been limited by an intent to rebuild the herd; positive cow-calf and finisher profitability is signalling primary production to grow. In addition, the domestic market, of 41 million people, still remains attractive for many processors and has been their core focus for many years. Finally, some export beef markets, such as Japan, still remain closed to Argentina due to sanitary measures – in 2001 Argentina had an outbreak of Foot and Mouth Disease.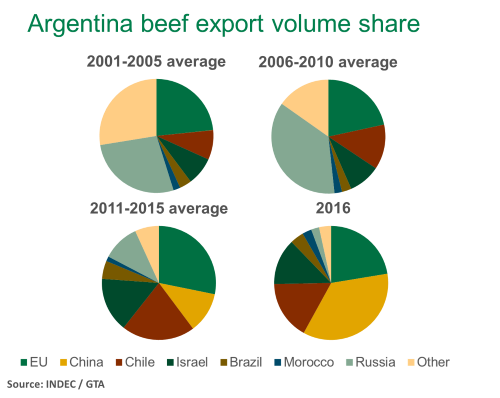 While Argentine exports may lift in the longer term, their export footprint (as illustrated above) has historically been across different customer markets to Australia – with a particular focus on Chile, Israel, Russia and Brazil.
More recently, however, Argentina has joined Uruguay and Brazil in expanding its presence in China (Australia's fourth largest beef export market) – exports to the market were negligible prior to 2012 but were a record 55,000 tonnes swt last year. In addition, the USDA has reopened the US imported beef market to Argentina; however, the sanitary approval process is yet to be finalised allowing for the trade to commence.
Argentina has also maintained a strong presence in the high value but restricted EU market, with a 29,500 tonne Hilton beef quota allocation – of which it utilised 76% of in the 2015-16 financial year – and access to the shared 48,200 tonne global grainfed beef quota – over which it competes with US, Canada, Uruguay, NZ and Australia. In 2016, the EU accounted for 22% of total beef exports and represented the second largest market for Argentina.
Join myMLA today
One username and password for key integrity and information Systems (LPA/NVD, NLIS, MSA & LDL).
A personalised online dashboard that provides news, weather, events and R&D tools relevant to you.
Customised market information and analysis.
Already registered for myMLA?