Record Australian live cattle exports in 2014-15
13 August 2015
---
During the 2014-15 fiscal year, Australian live cattle exports reached 1.38 million head, up 22% on the previous twelve months and the highest fiscal year volume on record (Australian Bureau of Statistics). 
Boosted by strengthening demand from key Asian markets and high prices, total live cattle exports were valued at $1.4 billion in 2014-15, up 29% on the previous fiscal year (Australian Bureau of Statistics). Indicative prices out of Darwin hit 275¢ for light weight feeder steers in February and averaged 235¢/kg lwt for the financial year.
The largest Australian live cattle destination was again Indonesia, taking 746,193 head (up 20% year-on-year)
Vietnam experienced another year of substantial growth, with shipments reaching 309,505 head (up 136%)
China eased somewhat in 2014-15, back 15%, to 79,517 head, while Malaysia was 4% lower, at 52,876 head
Thailand also grew rapidly this year, jumping from only a few hundred head last fiscal year to 7,723 head in 2014-15
Cattle shipments to Israel were 39% lower, at 65,677 head, and numbers to Jordan also came back substantially
Live cattle exports are forecast to decline in 2015-16, due to lower northern cattle supply and tighter permit allocations. In July, Indonesia announced a significantly reduced third quarter import permits of 50,000 head for light weight (generally around 300kg lwt) feeder cattle. However, recent changes to import allocations will see the state logistics agency BULOG import an additional 50,000 head of heavier (+350kg lwt) slaughter cattle.
As a result, northern processors and live exporters are likely to come into more direct competition with one another to secure supplies of slaughter weight cattle. In the short term at least, this should underpin already strong prices and support the overall value of the Australian live cattle export industry.       
Australia exported almost 2.2 million head of live sheep during 2014-15, up 9% on the previous financial year. Overall export values also increased, up 32% year-on-year, to $244 million.
The Middle East continued to strengthen as the top export region, taking 97% of all live sheep exports, at 2.1 million head, however the flow of exports to particular countries shifted somewhat over the past twelve months
The largest individual market, Kuwait, eased 19% year-on-year, to 616,842 head
Aggregate shipments to Jordan and Qatar came back by just over 30%, at 203,500 head and 350,264 head, respectively
These declines were offset by a large increase in the number of live sheep shipped to the UAE (up 187%, to 358,133 head) and Bahrain (up 274%, to 374,640 head).
In addition, the increasing volume of whole sheep carcases shipped to the Middle East has also compensated for any declines in live exports to key markets, as illustrated below.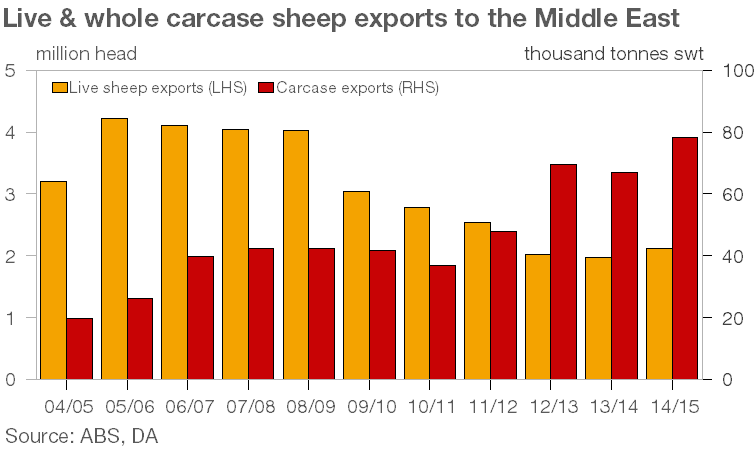 Join myMLA today
One username and password for key integrity and information Systems (LPA/NVD, NLIS, MSA & LDL).
A personalised online dashboard that provides news, weather, events and R&D tools relevant to you.
Customised market information and analysis.
Already registered for myMLA?