Restockers continue to drive young cattle market
29 November 2016
In November, the EYCI has averaged more than 55¢ above the same time in 2015, at 654¢/kg cwt, with the restocker buyer premium 40¢/kg cwt higher year-on-year – buoyed predominantly by abundant and better quality pastures and the historically low national herd.
Furthermore, the portion of EYCI eligible cattle bought by restockers has lifted to 36% so far in November, compared to 24% the same time last year – with proportions to feeder and processor buyers lowered marginally as a result, to 45% and 19% of total yardings, respectively.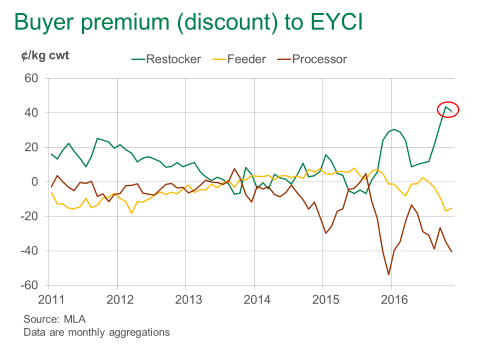 Last week (22nd November) at Roma, EYCI eligible cattle to restockers averaged 684¢, up over 30¢/kg cwt higher year-on-year – with solid competition between all buyers supporting a dearer market overall. At Dubbo, young cattle to restockers averaged 699¢, up 60¢/kg cwt year-on-year, driven predominantly by tighter supplies. Similarly at Wagga, restockers averaged 711¢, over 90¢/kg cwt dearer year-on-year – with the beginning of the harvest season contributing to tighter supplies of late and consequently, eager bidding between both feeder and restocker buyers to secure suitable types.
Despite some indicators remaining unseasonably resilient, cattle supplies typically lift in the lead up to the Christmas break – with young cattle indicators likely to come under pressure as a result. Although availability will remain lower year-on-year, many producers may look to bolster herd sizes over the November to December period, particularly as higher turnoff of young cattle continues to eventuate in many regions.
Join myMLA today
One username and password for key integrity and information Systems (LPA/NVD, NLIS, MSA & LDL).
A personalised online dashboard that provides news, weather, events and R&D tools relevant to you.
Customised market information and analysis.
Already registered for myMLA?