Restockers revive EYCI
05 December 2017
Key points:
The Eastern Young Cattle Indicator (EYCI) recovered from a two-year low in late September and has stabilised during November.
Price premiums paid by restockers have shifted between states, with Queensland the driving force while Victorian restocker demand eases.
Feeder buyers have taken up the slack in the system, purchasing more than 50% of EYCI eligible cattle week-to-week.
Buoyed restocker demand, the forecast of rain and a widespread seasonal break at the end of September saw cattle availability tighten and the market recover, with the EYCI gaining 65.25¢ throughout October and stabilising in November.
In fact, the EYCI fluctuated within an unprecedented narrow range of 5¢/kg cwt during November, closing the month at 579.75¢/kg cwt, illustrated in the below graph.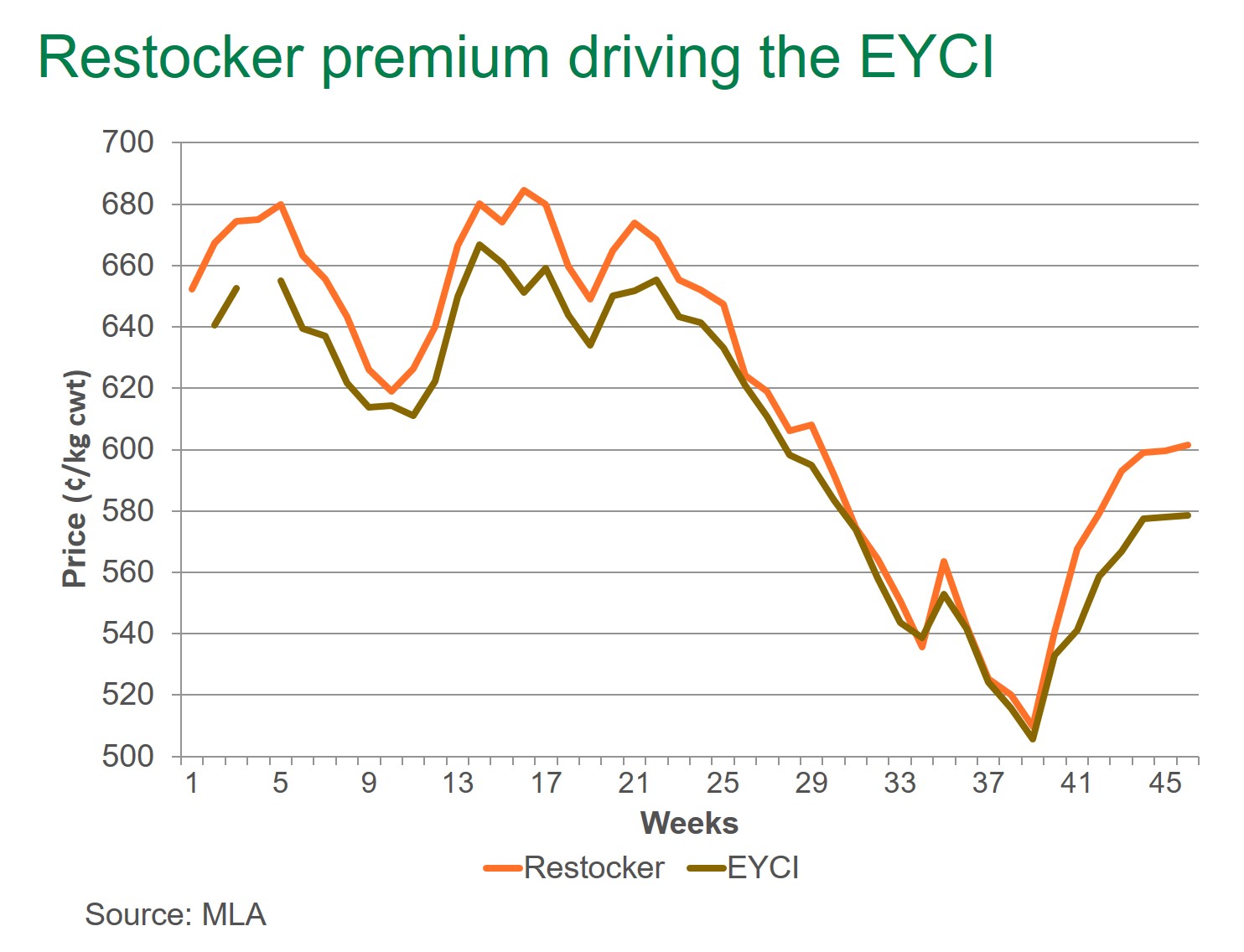 A shift in price premiums between the states
Restockers have played a prominent role in the historically high levels the EYCI has maintained during 2016 and 2017, typically paying a price premium. However, demand factors – arising from herd recovery and weather conditions – have seen a shift in price premiums that restockers typically pay between the northern and southern states.
Largely driving the recovery of the EYCI are Queensland producers. In November, Queensland restockers purchased 52% of EYCI eligible young cattle in saleyards across the state at a 54¢ premium to feeders. Given the patchy rainfall across Queensland and the level of drought induced turn-off that occurred across the state in recent years, it could be some time before on farm stocking rates return to average levels.
In contrast, Victorian restockers secured 14% of the market and premiums to that of feeder buyers narrowed from 20¢ earlier in the year to 7¢/kg cwt. Meanwhile, processor activity purchases accounted for 57% of EYCI eligible cattle in Victoria and paid a 26¢/kg discount on average to restockers.
Restocker requirements for cattle has lessened somewhat in Victoria as herd size is forecast to return to average levels this year, aided by higher (on average) branding rates and the higher base from which herd numbers had to recover from.
NSW restockers purchased 25% of the state's EYCI eligible yarding in November, at a 38¢ premium to feeder prices following widespread rain – quite a contrast to the 9¢ premium they were paying in August.
Feeder buyers picking up the slack
While restocker cattle have maintained a price premium across the eastern states, easing producer demand led to feeder buyers accounting for the majority of EYCI eligible cattle purchases since the end of August, with the exception of one week in October.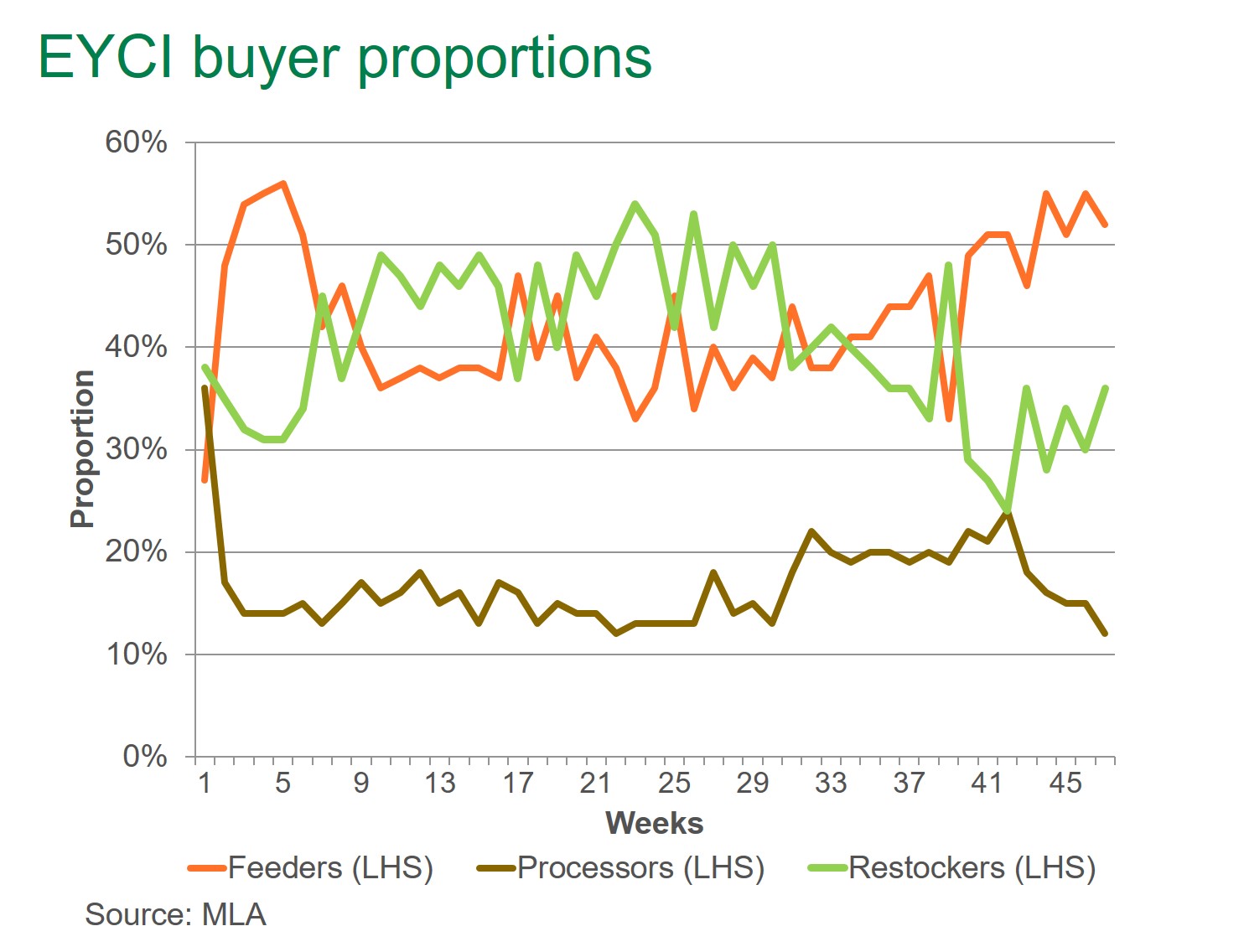 Despite an increase in grain prices, the percentage of EYCI eligible cattle purchased by feeders equated to 52% in November across the eastern states – driven predominantly by purchases in NSW and Queensland (61% and 40%, respectively). This represents the highest monthly proportion of lot feeder purchases since January and week-to-week purchases have persisted above 50% in recent weeks, despite increased restocker presence.
More than one million head of cattle were on feed for the third consecutive quarter this year, which has seen the grainfed proportion of Australian beef production rise and record high quarterly grainfed beef exports as a result.
Join myMLA today
One username and password for key integrity and information Systems (LPA/NVD, NLIS, MSA & LDL).
A personalised online dashboard that provides news, weather, events and R&D tools relevant to you.
Customised market information and analysis.
Already registered for myMLA?