Restocking premium withers with weather
02 March 2017
Yearling steer prices withered over the summer months, with 'below average' rainfall recorded across some of the largest cattle producing regions of the country.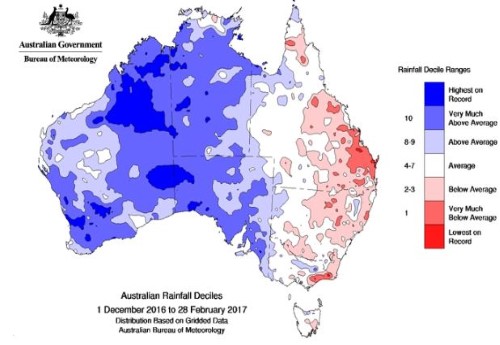 Source: BOM
The Queensland restocker yearling steer indicator eased 13% over the course of summer, finishing the season at 344¢/kg lwt. Similarly, restocker yearling steers in NSW declined 12% over the period to 344¢/kg lwt, while the Victorian market was extremely erratic on the back of more volatile throughput, and the restocker yearling indicator closed summer at 375¢/kg lwt. It should be noted that while there has been a general market decline over the summer months, this is a typical seasonal trend.
Of particular interest though, is that while the NSW and Victorian restocker indicators remain above year-ago levels, by 4% and 20% respectively, the Queensland counterpart eased 2% below.
The significance of this is that, for the first time in three years, Queensland producers are receiving lower prices than the year before. This may provide a clue as to how the young store cattle market will perform for the year ahead for all states, especially if the poor three-month rainfall outlook comes to fruition. Indeed, national cattle numbers remain at close to 20-year low levels, however, deteriorating feed conditions will probably continue to zap confidence from the restocking market. In other words, despite the reduced availability, prices could continue to fade. By how much becomes the obvious next question, and by again referring to the supply situation, it is unlikely to be anywhere near the same extent as what occurred in 2013, simply because the cattle herd isn't great enough to cause a flood on the market. In 2013, the Eastern Young Cattle Indicator (EYCI) dropped to 278¢/kg cwt, while its presently still in excess of 610¢/kg cwt.
In short, an exceptionally hot start to the year, combined with 'below average' rainfall has meant the 2017 cattle market didn't start with the same optimism as the previous three years, and despite limited availability, it may be the tone for 2017.
Join myMLA today
One username and password for key integrity and information Systems (LPA/NVD, NLIS, MSA & LDL).
A personalised online dashboard that provides news, weather, events and R&D tools relevant to you.
Customised market information and analysis.
Already registered for myMLA?