Sheep prices strong finish to 2016
13 December 2016
In the first week of December, the national mutton saleyard indicator averaged almost 90¢ higher than the same time last year, at 376¢/kg cwt, underpinned by lower production and higher stock retention.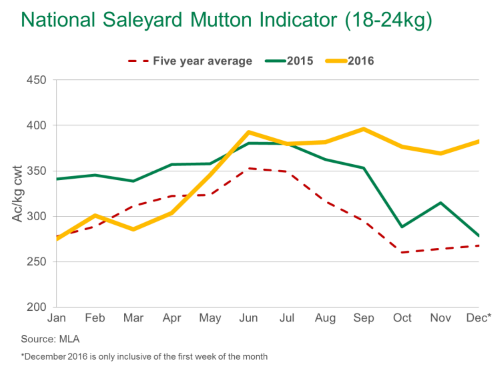 For the January to December period, supported by a good spring and improved conditions across many major producing regions, the national mutton saleyard indicator averaged 3¢ dearer year-on-year, at 348¢/kg cwt – with the Victorian and SA saleyard indicators recording the greatest increases.
In 2016, compared to last year, the mutton saleyard indicators in:
Victoria increased 8¢ – averaging 366¢/kg cwt
NSW declined 2¢ – averaging 358¢/kg cwt
SA increased 22¢ – averaging 391¢/kg cwt
WA declined 5¢ – averaging 272¢/kg cwt
Tasmania increased 1¢ – averaging 337¢/kg cwt
Reflective of the lower availability in many regions, eastern states sheep slaughter for the January to October period declined 16% from the same time last year – with just over 5.7 million head processed (ABS). Despite trending dearer in recent weeks, national medium weight mutton over-the-hook indicators averaged 9¢ cheaper this year compared to 2015 – averaging 306¢/kg cwt overall. Looking forward, as the flock begins to rebuild, sheep slaughter for 2017 is expected to be similar year-on-year, at 7 million head.
On the demand side, mutton exports for the year-to-date (January to November) declined 12% year-on-year, to 120,294 tonnes swt, predominantly due to considerably lower domestic production. Shipments to China and Saudi Arabia eased 27% and 32%, to 18,597 tonnes swt and 10,672 tonnes swt, respectively. Volumes to Malaysia were down 3% to 13,277 tonnes swt, while mutton exports to the US declined 22% to 8,788 tonnes swt.
Despite most other destinations recording lower volumes this year, mutton exports are projected to stabilise in 2017, at 125,000 tonnes swt, before beginning to increase steadily out to 2020.
To read MLA's latest Australian Sheep Industry projections for 2017, click here.
Join myMLA today
One username and password for key integrity and information Systems (LPA/NVD, NLIS, MSA & LDL).
A personalised online dashboard that provides news, weather, events and R&D tools relevant to you.
Customised market information and analysis.
Already registered for myMLA?