Short supply lifts foetal blood prices
15 December 2016
As highlighted in the latest edition of MLA's Co-product report, foetal blood prices in November lifted 79% year-on-year, averaging $380/litre ex-works. Although foetal blood prices have not reached the highs of 2014, when European demand saw some traders receiving $600/litre ex-works, the market this year has been supported by the contraction in Australian female cattle slaughter and consequent short supply.
In 2016, cattle slaughter has retreated from the record high levels of recent years. Fewer numbers available following record turn off, coupled with widespread rain and improved seasonal conditions, has promoted the retention of cattle. This is particularly relevant to female cattle and is evident in the female percentage of the Australian cattle slaughter. The figure below illustrates the decline in the 12-month rolling average percentage of female cattle kill – which for the month of October was 47%, back from 50% in 2015.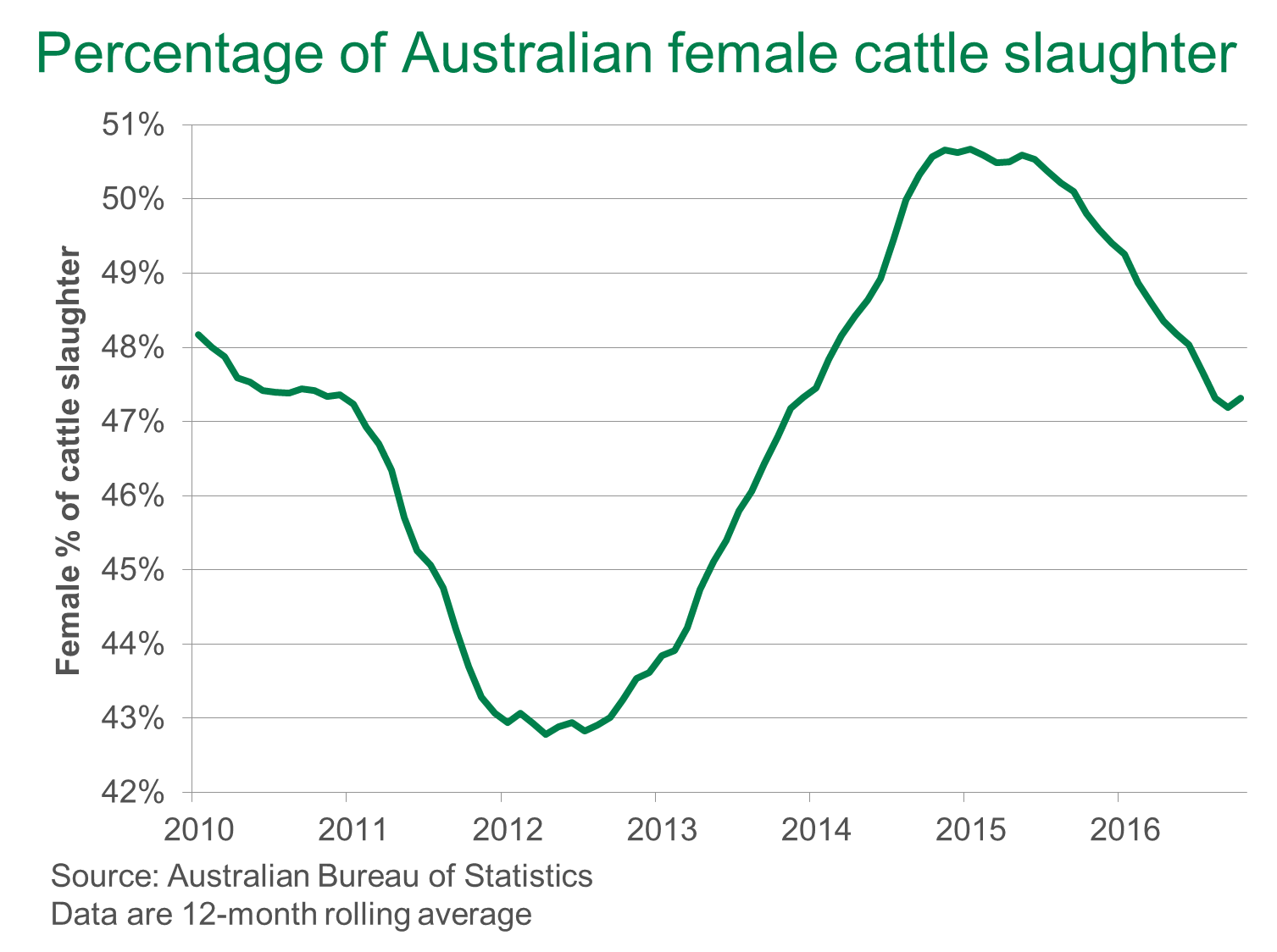 Tight Australian cattle supplies will continue to support foetal blood prices, particularly if the seasonal conditions continue to promote herd rebuilding.
More generally, beef offal prices were mostly stable during the month, compared to the same time last year. Beef tongue and beef lips prices eased whilst prices for rumen pillars, halal tails and beef cheeks were firm. Most sheep offal prices were steady year-on-year, although prices for sheep kidneys were higher in November.
To view the full November Co-Product report, please CLICK HERE.
To subscribe to the monthly Co-Product report, please email marketinfo@mla.com.au.
Join myMLA today
One username and password for key integrity and information Systems (LPA/NVD, NLIS, MSA & LDL).
A personalised online dashboard that provides news, weather, events and R&D tools relevant to you.
Customised market information and analysis.
Already registered for myMLA?