Southern supply surge depresses EYCI
14 October 2015
---
Finishing at 542.75¢/kg cwt, at the close of Tuesday markets the Eastern Young Cattle Indicator (EYCI) was 36.25¢/kg cwt behind week-ago levels and 52.50¢/kg cwt below where it peaked a fortnight ago. Not since 2006 has the Australian cattle industry witnessed a 30¢/kg cwt weekly fall in the EYCI, and prior to then it had only occurred once before, in 2002 (the EYCI first began being recorded in 1996).
Hot, dry conditions across the east coast have seen high offerings, and buyer confidence has not been buoyed by the Bureau of Meteorology's (BOM) latest three month outlook, indicating a hotter and dryer remainder of the year for much of NSW and Victoria. Compounding the impact of increased supply, the A$ has recorded some modest growth while the US beef market is much weaker than year-ago levels.
A decline in cattle prices usually occurs in October and November, as additional southern supplies come onto the market with the approach of summer.
The number of EYCI eligible cattle over the past week in NSW and Victoria has increased 58% and 53%, respectively, compared to the previous week, while throughput in Queensland is up 21%. At nearly 27,000 head, the number of cattle currently included in the EYCI has not been this high since the beginning of the year, when the dry start forced large numbers of cattle onto the market in NSW.
The supply pressure has most starkly impacted southern markets. EYCI eligible cattle in NSW and Victoria have dropped 65¢/kg cwt and 62¢/kg cwt, respectively, in the past two weeks. In comparison, the same lines in Queensland have eased just 30¢/kg cwt. Furthermore, as illustrated in Figure 1, the relative declines are such that EYCI eligible cattle in Queensland are now averaging 6¢/kg cwt above those in NSW and 31¢/kg cwt above those in Victoria.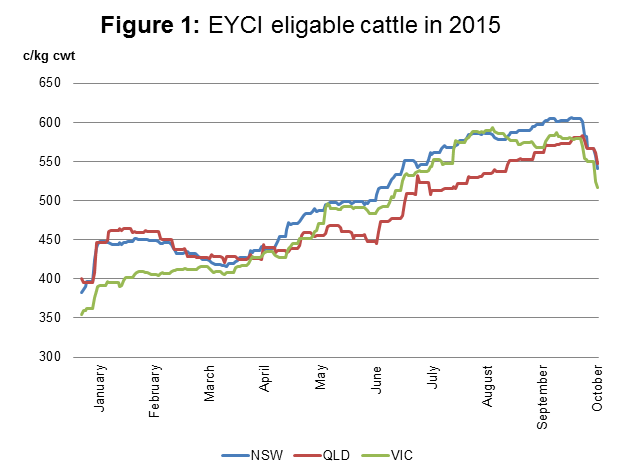 With quality reportedly back across most markets, it is no surprise processors have been less active in the young cattle market. Overall, 21% of EYCI eligible cattle have been purchased for slaughter, compared to 36% recorded in early September.
Queensland cattle prices have declined to a lesser degree for a few reasons. Firstly, changing seasonal conditions have not been as severe in Queensland in recent weeks and are forecast to be relatively more favourable over the remainder of the year. As such, Queensland restockers have actually been quite active in the market, purchasing 38% of EYCI eligible cattle in the state over the past week, up from 31% a week ago and 33% a fortnight ago. At Roma Store this week, restocker yearling steers averaged around the 300¢/kg lwt mark and falls were mostly limited to less than 10¢/kg lwt.
Additionally, the live export market remains strong. Indicative feeder steers for delivery over the next few weeks out of Townsville are currently around 300¢/kg lwt, while similar lines out of Darwin are 315-330¢/kg lwt.
Recent downward shifts in cattle prices have been recorded across the country, with the Western Young Cattle Indicator (WYCI) sliding 81.50¢/kg cwt in a week, at 492.25¢/kg cwt, following a 67% week-on-week increase in WYCI eligible cattle.
Join myMLA today
One username and password for key integrity and information Systems (LPA/NVD, NLIS, MSA & LDL).
A personalised online dashboard that provides news, weather, events and R&D tools relevant to you.
Customised market information and analysis.
Already registered for myMLA?