Spike in lighter ewe numbers
05 September 2018
The supply of lighter ewes increased as winter progressed, leading to widening price discounts on the major mutton indicator. In August, 37% of ewes sold in NSW and Victorian saleyards weighed less that 18kg carcase weight, compared to just 16% in 2017.
Here we take a closer look at MLA's NLRS saleyard data to determine the volume of lighter ewe sales and the prices producers are receiving.
Mutton prices still strong despite supply increase
During July and August, declining seasonal conditions resulted in increased ewe yardings, as well as a significant rise in mutton slaughter. Despite the considerable supply increase, mutton prices remained surprisingly strong. On Monday, the eastern states mutton indictor reached 477¢/kg carcase weight (cwt), up 17% year-on-year and 35% above the five-year August average.
However, there is an increasing number of drought-affected ewes that are falling outside the specifications of the mutton indicator, which includes ewes and wethers weighing between 18.1-24kg cwt in either two or three fat score condition and sold in NLRS reported saleyards in NSW, SA and Victoria.
During July and August, NSW and Victorian saleyard ewe throughput surpassed 500,000 head, which was close to double that of 2017.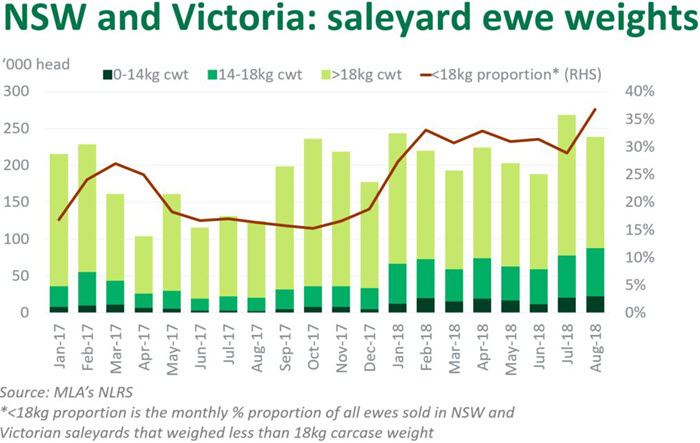 Light ewes trading at a growing discount
With many producers looking to offload any poorer conditioned ewes this winter, increased supply led to a significant discount on the eastern states mutton indicator.
In January 2017, the eastern states mutton indicator averaged 408¢/kg cwt, while ewes less than 18kg cwt averaged 403¢/kg. In August 2018, however, the mutton indicator averaged 432¢/kg cwt, while lighter ewes averaged 361¢/kg cwt, representing an 18% discount.
The chart below compares monthly average price levels for the eastern states mutton indicator and ewes that weighed less than 18kg cwt.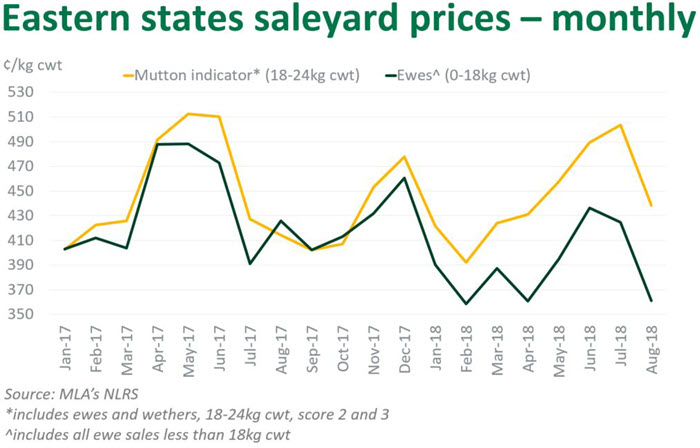 A simple analysis using these prices shows a 16kg cwt ewe would have made on average $66/head in August, while a 19kg cwt ewe would have sold for approximately $90/head (with an $8/head skin value).
So, a carcase weight gain of 3kg/head would earn a producer an extra $24/head at the saleyards. The trouble is that limited pasture and expensive feed have made weight gains extremely hard to come by this winter and this has been reflected in saleyard prices.
Join myMLA today
One username and password for key integrity and information Systems (LPA/NVD, NLIS, MSA & LDL).
A personalised online dashboard that provides news, weather, events and R&D tools relevant to you.
Customised market information and analysis.
Already registered for myMLA?