Spring flush turns to spring hush
14 November 2018
For the week ending 9 November, lamb yardings across the eastern states fell significantly from the previous week. The drop in numbers saw the Eastern States Trade Lamb Indicator rise to 701¢/kg carcase weight (cwt) on Tuesday, up 36¢, or 5%, week-on-week.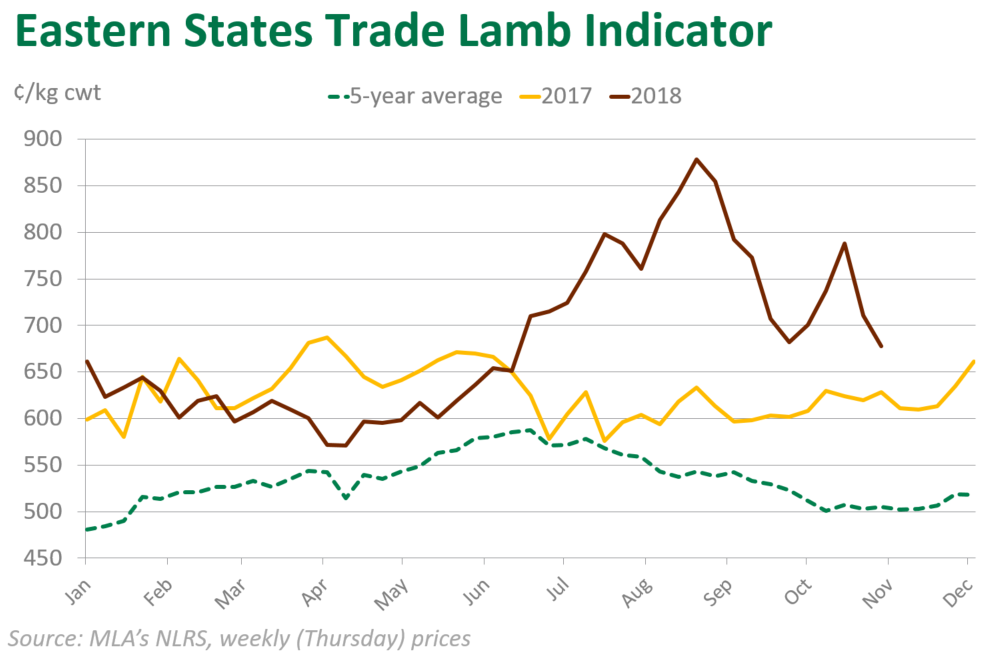 In recent weeks, lamb numbers presenting in eastern states saleyards have been unpredictable to say the least. For the week ending 9 November, yardings totalled 168,000 head, a decrease of 118,000 head, or 41%, from the previous week. That decline followed a 55% rise the previous week, which was generally expected to mark the beginning of a period of increased numbers. In 2017, lamb saleyard throughput during November was much more consistent, averaging 238,000 head per week.
Spring typically coincides with a period of fluctuating lamb supply across the eastern states, which often translates into price volatility. Prices have been particularly volatile in 2018, leading to uncertainty for both producers and processors. The Eastern States Trade Lamb Indicator rose to 788¢/kg (cwt) on 25 October, before falling to 665¢/kg cwt in less than a fortnight.
Looking to other eastern states saleyard indicators, recent rain has not alleviated the supply shortage of finished lambs, particularly for 22+kg cwt lambs. Heavy lambs averaged 717¢/kg cwt on Tuesday, representing a 16¢ premium on the trade lamb indicator. Restocker lambs were met with a solid level of support, averaging 707¢/kg cwt for the week.
Turning to eastern states lamb slaughter for the week ending 9 November, numbers fell 4% week-on-week, to 340,000 head. At this level, weekly slaughter was 12% below the 2017 weekly average for November.
Looking forward to the season ahead, recent movements in supply and prices suggests market volatility may continue throughout the remainder of spring and into summer. The challenging year that has been 2018 will continue to impact lamb supply, with marking rates and growth rates affected by the lack of pasture. NSW will be a state to watch during summer, with some key supply regions still yet to receive any decent rainfall during the crucial spring period.
Join myMLA today
One username and password for key integrity and information Systems (LPA/NVD, NLIS, MSA & LDL).
A personalised online dashboard that provides news, weather, events and R&D tools relevant to you.
Customised market information and analysis.
Already registered for myMLA?