Spring rain outlook brighter in the east
31 August 2017
After a dry winter across many key sheep and cattle supply regions, the spring rainfall outlook is looking somewhat more positive across eastern Australia. For the south west corner of the country, however, rainfall is likely to be below average for the September to November period.
In September, south-west WA, southern SA, and pockets along the eastern coastline have a slightly higher chance of receiving above-average rainfall during the month. The south-east corner and northernmost parts of WA, as well as several areas across the Top End and north Queensland are more likely to have a drier month, while the remainder of the country has a roughly equal chance of a wetter or drier start to spring.
The rainfall outlook for October is brightest for southern Queensland and northern NSW, which have a 60-70% chance of exceeding the average rainfall during the month. The Kimberley region of WA has a particularly low probability of above average rain, however this is typically a very low rainfall period for this area. Much of southern NSW and northern Victoria have a 55% chance of higher than average rain.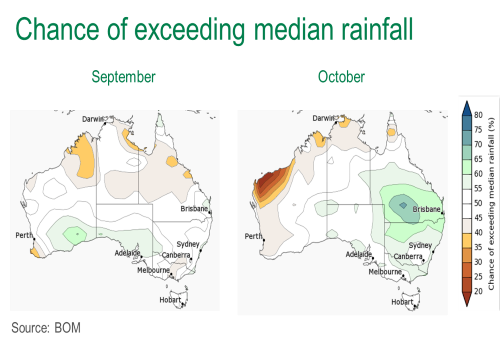 In terms of the northern Australian wet season, the likelihood of an early onset is slightly greater in parts of northern Queensland and the Pilbara in WA. A later than normal onset is more likely in the area surrounding the WA-NT border.
Join myMLA today
One username and password for key integrity and information Systems (LPA/NVD, NLIS, MSA & LDL).
A personalised online dashboard that provides news, weather, events and R&D tools relevant to you.
Customised market information and analysis.
Already registered for myMLA?