Standstill for US imported beef market
26 February 2018
US imported beef prices were largely unchanged this week as a result of limited trading between overseas suppliers and US importers.
There remains a limited availability of spot supplies from both Australia and New Zealand. The majority of market participants appear content to wait for an increase in offerings and subsequent shift in asking prices before entering negotiations.
However, despite forecasts for supplies out of Australia and New Zealand to increase in the coming months, US end users comment that this may not translate into an increase in availability, as growing Asian demand absorbs additional product. Australian and New Zealand beef exports to China in 2017 were 17% and 18% higher year-on-year, respectively.
The imported 90CL beef indicator eased 1US¢ from the previous week, to 214.5US¢/lb CIF (no change at 601.63A¢/kg CIF).
The USDA cattle on feed inventory report as of February 1st indicates 7.9% more cattle on feed than year-ago levels, at 11.6 million head – the largest February inventory since 2012. Lighter cattle entering feedlots due to drought has driven much of the increase in placements during the last few months. Feedlot supplies are large at present, which should help limit beef prices inflating heading into spring. However, aggressive marketing rates have allowed feedlots to stay current. Strong consumer demand has more than offset the increase in cattle inventories and the focus will continue to remain on demand drivers and the impact on both beef and cattle pricing moving into the spring.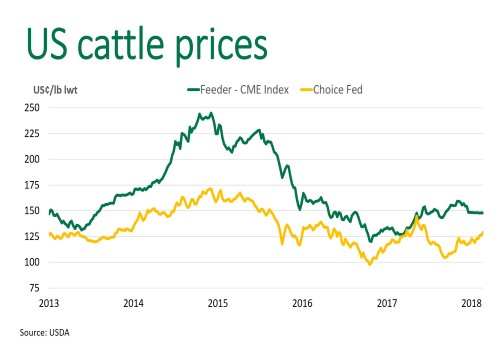 Highlights from the week ending 23rd February:
CME fed and feeder cattle futures were lower this week as participants reduced some long positions ahead of the monthly cattle on feed report.
Rain in the Southern Plains in the past week have offered some relief to cow-calf operators facing some of the worst drought conditions of the past five years.
US wholesale beef prices were higher this past week but the increase has occurred earlier than normal and some fear this will negatively affect post Easter retail beef features.
Click here to view the Steiner Consulting US imported beef market weekly update.
Join myMLA today
One username and password for key integrity and information Systems (LPA/NVD, NLIS, MSA & LDL).
A personalised online dashboard that provides news, weather, events and R&D tools relevant to you.
Customised market information and analysis.
Already registered for myMLA?