Stronger competition for beef in South East Asia
01 October 2015
---
The total volume of Australian beef imports into South East Asia (Indonesia, Malaysia, Philippines, Singapore, and Thailand) this year has seen a decline in comparison with the same period in 2014. While the decline in Indonesia was largely due to its revised import protocols, trade to other countries has been influenced by increased competition from other beef exporting nations.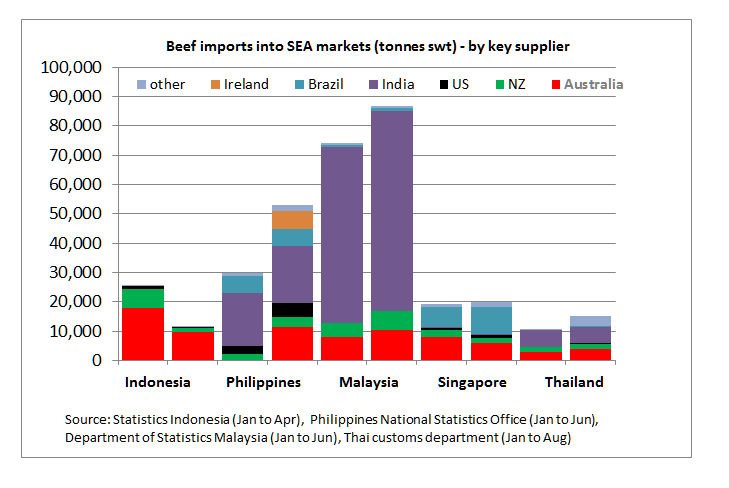 Philippines
Total beef imports into the Philippines for the first six months of this year have risen 15% year-on-year, to 52,893 tonnes swt. However, imports from Australia decreased 28%, to 11,479 tonnes swt, with the market share falling from 35% in 2014 to 22% so far this year.
Australia's decline in market share is attributed to an increase in imported beef from India, the US, and New Zealand. Ireland has also become a significant supplier to the Philippines, with over 6,000 tonnes swt of beef imported into the market for the year-to-date. In Ireland, a more than 2% increase in average cattle carcase weights, along with a 10% rise in throughput and better grazing conditions led to a 13% increase in net production and overall beef output in 2014-15.
Ireland's exports into the South East Asian market were assisted by competitive prices, and strong demand, with Australian exporters having a strong focus on North American markets in 2015.  Along with the Philippines, increased import volumes from Ireland were also recorded in other markets such as Hong Kong. Relatively cheaper beef from India and the US has also contributed to the growth in trade from these suppliers.  
Malaysia
Malaysian beef imports in 2015 (January to June) have increased 17%, to 86,843 tonnes swt. Unlike in the Philippines, imports of Australian beef have also risen, up 29% on last year and totalling 10,400 tonnes swt. India remains the largest supplier to the market, totalling 68,200 tonnes swt (up 13% on the same time last year), and accounting for 79% of total imports.
Join myMLA today
One username and password for key integrity and information Systems (LPA/NVD, NLIS, MSA & LDL).
A personalised online dashboard that provides news, weather, events and R&D tools relevant to you.
Customised market information and analysis.
Already registered for myMLA?