Subdued global demand impacts sheep skin market
08 September 2016
The Australian sheep skin market has recorded a significant decline since April, predominantly the result of plant closures in China due to environmental issues and changes to environmental policy, coupled with a reduction in international demand for leather goods. Tightening supplies have done little to counteract the lower export demand – July lamb and sheep slaughter was back 13% and 43% year-on-year, respectively.
Despite year-to-June Australian skin exports declining 6% year-on-year, shipments to China have remained steady and represent the vast majority (95% so far in 2016) of all skin exports. However, the export unit price of Australian skins to China decreased 15% month-on-month in June, to $12.29/skin, with subsequent similar magnitude falls recorded on the domestic skins market.
During August;
Lamb skins (20-24kg, 2"-3", free of vegetable matter) averaged $4.75/skin, down 38% month-on-month and 46% below year-ago levels
Merino sheep skins (20-24kg, 2"-2.5", free of vegetable matter) averaged $17.00/skin, 8% lower from July but steady year-on-year
Providing some support to the skins market has been a strengthening wool indicator, which has seen Merino, and also longer stapled skins, increase their premium over their crossbred or shorter staple counterparts.
During August, Merino skins were at a 300% premium to crossbred skins (20-24kg, free of vegetable matter, 2.5"-3"), up from the 263% premium in July and well above the 227% recorded in August last year
Similarly, lamb skins (20-24kg, free of vegetable matter) carrying a greater than 3" staple were at a 186% premium during August to their 0.5"-1" counterparts, up from the 108% premium in July and the 89% premium during the corresponding period last year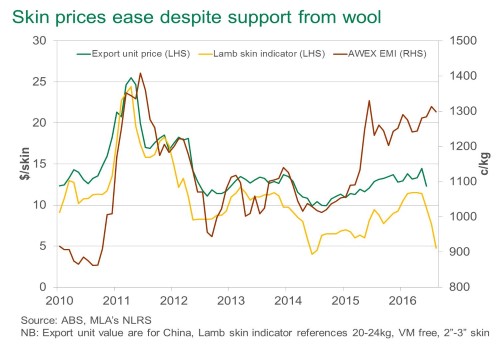 All Australian skins indicators quoted above are reported by MLA in the weekly skins report. The recently released MLA co-product report also provides the latest prices and trends on other livestock co-products.
To subscribe to either report, email marketinfo@mla.com.au.
Join myMLA today
One username and password for key integrity and information Systems (LPA/NVD, NLIS, MSA & LDL).
A personalised online dashboard that provides news, weather, events and R&D tools relevant to you.
Customised market information and analysis.
Already registered for myMLA?