The world's leading meat protein is….? – FAO
03 November 2016
In the OECD-FAO's Agricultural Outlook to 2025, there is one meat protein that stands out above the rest as the most produced, the most consumed, and the most traded in the world. It may come to a surprise to some that this protein is not chicken, pigmeat, beef, nor sheepmeat. It is, in fact, fish.
When fish from capture and fish from aquaculture (farmed fish) are added together, it has tracked well-above all others as the highest producing meat protein for the last two decades, and is expected to remain so out to 2025.
Not only is fish the most produced, but it has the fastest growing production globally – just ahead of poultry. As illustrated in the figure below, the growth is predominantly driven by increasing global aquaculture production, as production from capture fisheries remains fairly steady.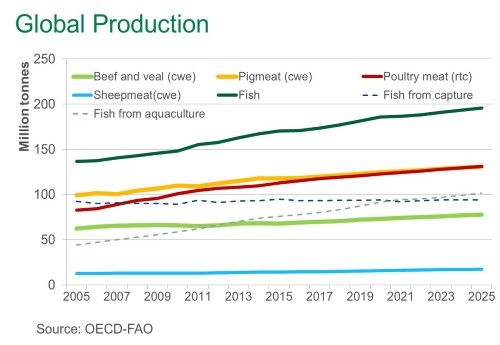 So, what does this mean for red meat?
Along with poultry and pigmeat, growth in global fish production does imply ongoing competitive pressure for the red meat industry. However, this has long been an established trend and fairly unsurprisingly so, given the more intensive nature of the pork, poultry and aquaculture industries in general and their prominence in Asia and the US.
On a global scale, total fish production, consumption and exports have maintained, and are projected to continue with, a clear margin above all other proteins. Interestingly though, it was only in 2012 when global fish production from aquaculture overtook global beef production – highlighting the steady expansion of the world's aquaculture sector.
Fish is the largest meat protein import in several of Australia's major red meat export destinations, such as the US, China, Japan, Korea and the EU, and it is the most consumed meat in our top Asian markets.
In the US, fish is the largest imported meat protein, followed by beef, and volumes are projected to rapidly increase out to 2025. In terms of consumption and production in the US, however, fish ranks below poultry, beef and pigmeat.
Following a three-fold expansion over the last decade in China, FAO anticipate total fish imports to remain fairly stable in 2016, but slowly decline towards 2025 – at the same time that beef and sheepmeat imports are forecast to rise. In 2007, fish surpassed pigmeat as the most produced meat protein in China, and in 2012, it became the most widely consumed.
In Japan, the weaker Yen and easing demand for seafood underpin the FAO's forecast decline in consumption out to 2025, while other proteins are expected to maintain their share.
Fish has the highest consumption volume of all the meat proteins in Korea, and despite a period of decline from 2008 to 2013, FAO forecast a gradual recovery out to 2025. Fish consumption in Korea is followed by pigmeat, poultry and beef – which are all anticipated to follow a similar upwards trend over the next ten years.
Australia produces a relatively small volume of fish, and as a result, it is our largest meat protein import. Australian fish consumption has been gradually increasing over the last 10 years. The Australian population is becoming increasingly multicultural, particularly with migration from Asia, where fish, pork and poultry comprise a large part of traditional diets. FAO forecasts consumption of all meat proteins in Australia to rise out to 2025, although poultry, fish and pigmeat are expected to grow at a faster rate.
Join myMLA today
One username and password for key integrity and information Systems (LPA/NVD, NLIS, MSA & LDL).
A personalised online dashboard that provides news, weather, events and R&D tools relevant to you.
Customised market information and analysis.
Already registered for myMLA?