TPP brings growth opportunities to Vietnam
28 October 2015
---
The recently agreed Trans Pacific Partnership (TPP) is likely to bring numerous growth opportunities to Vietnam, although it is reported that it will take some time before the benefits of the trade framework will be felt in-market. Nevertheless, business sentiment is upbeat, reflected in the strongest GDP growth forecast in the ASEAN region (6.5% in 2016 – IMA Asia).
TPP key outcomes
Under the agreement, Vietnam's export competitiveness is expected to improve across 37 export commodity groups, including textiles, footwear, seafood and coffee. Vietnam could be the "biggest winner in the TPP over the next 10 years", according to IMA.
Beef import tariffs will be eliminated over eight years under the TPP. That said, Australia is already benefiting from lower tariffs into Vietnam under the Australia-New Zealand Free Trade Agreement (AANZFTA), which will bring the existing tariff (currently at 7%) to zero by 2018.
Australia exported 2,647 tonnes swt of beef to Vietnam during January to September this year, up 25% on the same time last year and the highest on record during the period.
The US had sent 2,859 tonnes swt of beef to Vietnam in 2014, but increased volume since, with January-to-August shipments this year already at 2,406 tonnes swt. The new agreement is likely to encourage imports from the US, however implementation timing is yet to be determined. Vietnam has removed BSE-related restrictions on US beef imports, and now accepts a full range of cuts from US cattle of all ages.
Retail
Vietnam is expected to rank 28th in the global grocery market in 2020, assisted by strong growth (8.5%) between 2015 and 2020. Traditional trade continues to play a strong role in the market, with less than 5% of the total grocery market operated by major retailers (IGD). 
Yet, modern retail outlets continue to expand, especially with the rapid growth of convenience stores. Operators from the US, Japan and Singapore, as well as local operators, are all competing to capture demand, with the total number of convenience stores anticipated to reach 1,500 by 2017, a 330% increase from 2014 (Nielsen).
Foodservice
Vietnamese consumers reportedly spend proportionally high amounts when eating out, and the trend could continue, underpinned by economic growth, as well as consumers equally supporting local operators for convenience and familiarity.
Breakfast is reportedly a highly competitive space for all businesses, with mobile food stalls – some of them franchisees of local restaurants and cafes – competing against McDonalds drive through services.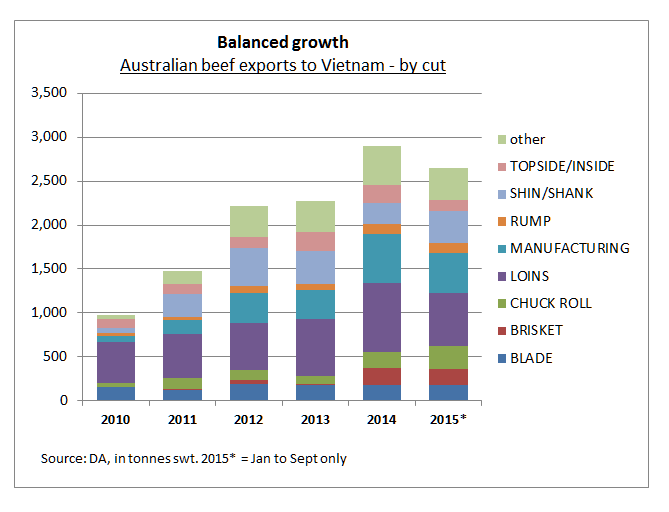 Join myMLA today
One username and password for key integrity and information Systems (LPA/NVD, NLIS, MSA & LDL).
A personalised online dashboard that provides news, weather, events and R&D tools relevant to you.
Customised market information and analysis.
Already registered for myMLA?