Rising demand in Indonesia supported by trade deal
05 September 2018
Australian red meat and live cattle exports are set to benefit from the Indonesia-Australia Comprehensive Economic Partnership Agreement (IA-CEPA), which was finalised on 31 August 2018 and is expected to be signed by the end of the year.
IA-CEPA will provide tariff elimination for those red meat and livestock lines not addressed under the ASEAN-Australia-New Zealand FTA (AANZFTA). Non-tariff barriers including import permit restrictions, quotas or other trade hurdles, especially for live cattle exports, are also tipped to improve with the IA-CEPA in place.
Chair of the industry's IA-CEPA taskforce David Foote said that Indonesia is a vitally important customer for significant quantities of Australian live cattle, beef and offal and has a steady requirement for sheepmeat, albeit smaller volumes.

"IA-CEPA will not only deliver additional trade liberalisation by building on the ASEAN-Australia-New Zealand FTA (AANZFTA) outcomes, it will also provide a framework for a more market orientated import regime. This in turn will deliver benefits for both our sector as well as the Indonesian supply chain – including importers, retailers and foodservice operators," Mr Foote said.

"On behalf of the livestock and red meat industry, I extend our thanks to the Australian and Indonesian negotiating teams for their tireless effort over several years.

"IA-CEPA is a most welcome addition to the suite of FTAs the Australian Government has concluded to date with key trading partners."
IA-CEPA will deliver:
A quota (with a 0% in-quota tariff) for 575,000 head of live (male) cattle, which will grow by 4%/year over five years to 700,000 head. Import permits will be issued automatically on an annual basis and without seasonal restrictions – a welcome improvement on previous administrative procedures. A review of this trade will be conducted after five years to consider future increases in the quota (i.e. above 700,000 head).
Liberalised access for female live cattle exported to Indonesia, with 0% tariff on entry into force of the agreement and no quota or import permit restrictions.
Immediate or gradual liberalisation of tariffs applicable to boxed beef and sheepmeat exports to Indonesia – whereby those tariff lines not already benefiting from 0% tariffs secured under AANZFTA, will benefit from either a 0% or 2.5% tariff on entry into force (down from 5%) with the tariffs being eliminated altogether over five years.
Similar advantages will be extended to frozen offals – with the 5% tariff eliminated on entry into force of the agreement.
Note: no quota or import permit restrictions apply to any boxed red meat or offal exports.
Meeting rising demand for beef in Indonesia
Indonesia is one of the leading markets for Australian boxed beef, offal and live cattle exports valued at A$977 million in 2017–18. During the period from January to July 2018, boxed beef exports have totalled 36,800 tonnes shipped weight (swt), up 33% year-on-year; beef offal exports grew 14% year-on-year to 16,900 tonnes swt; and live cattle exports increased 12% year-on-year to 290,150 head. IA-CEPA is expected to further support Australian beef and live cattle exports to meet the rapidly rising demand for beef in Indonesia.
Beef is the third most consumed protein in Indonesia; however, it is perceived to be the most important source of protein. Beef is used widely in local cuisines and is a popular meat served during celebrations and festivities. Indonesia's total beef consumption is estimated to be around 770,000 tonnes carcase weight (cwt) in 2018 and is expected to grow 9% by 2022 to 839,000 tonnes cwt (Source: Gira).
Despite the changing competitive landscape, Australia has maintained a strong position in the Indonesian beef market, with Australian boxed beef and live cattle exports estimated to contribute approximately 35% of Indonesia's total beef consumption and account for more than 75% of Indonesia's total beef imports.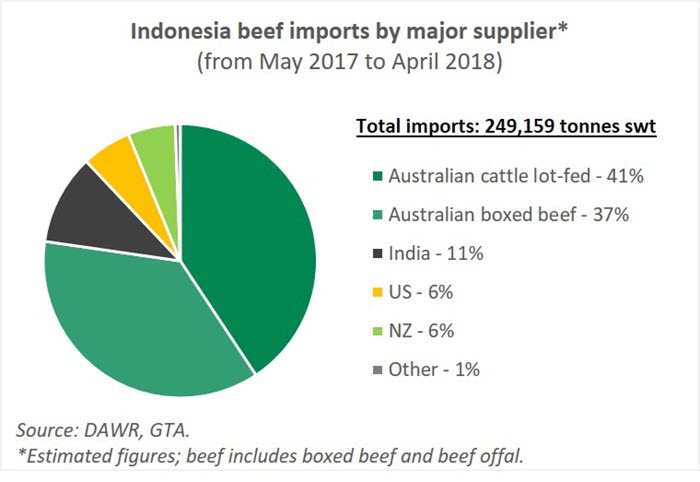 Opportunities for Australian sheepmeat exports
The removal of tariffs for Australian sheepmeat and goatmeat products in the next five years under IA-CEPA will underpin export growth for Australia. Indonesia's sheepmeat and goatmeat consumption is estimated at around 120,000 tonnes carcase weight (cwt) a year on average, of which imports make up only about 3% (Source: GIRA).
In Indonesia, lamb is seen as the second most preferred meat after beef and one that consumers are most willing to pay more for due to its taste, tenderness and perceived high animal welfare attributes (Source: MLA Global Tracker Indonesia 2018).
Indonesia's sheepmeat consumption is forecast to grow 9% by 2022 to approximately 134,000 tonnes cwt (Source: GIRA). In fact, Indonesia's sheepmeat imports have increased strongly in recently years, at an average annual growth rate of 17%.
Australia and New Zealand are the two sole suppliers of sheepmeat to Indonesia, with Australia representing almost 98% of total imports. Australian sheepmeat in Indonesia is largely utilised in the foodservice sector, with loin cuts popular in high-end hotels and restaurants, and other cuts used in dishes such as satays, soups, grilled thin-slice and roasts.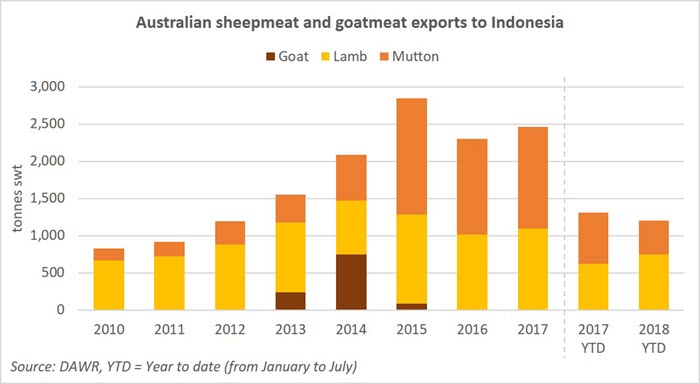 Join myMLA today
One username and password for key integrity and information Systems (LPA/NVD, NLIS, MSA & LDL).
A personalised online dashboard that provides news, weather, events and R&D tools relevant to you.
Customised market information and analysis.
Already registered for myMLA?