Australia and NZ lamb prices breaking records
25 July 2018
Australian trade lambs are approaching a record 800¢ and heavy lambs broke through that mark this week. However, the current market dynamics aren't restricted to Australia. New Zealand, Australia's principal competitor on the export market, is pushing similar extremes.
Last week, New Zealand lamb prices, converted into Australian dollars, average a record 729A¢/kg cwt, up 15% year-on-year and close to parity with the Australian lamb market. As illustrated below, this recent rally has even eclipsed the last surge in 2011.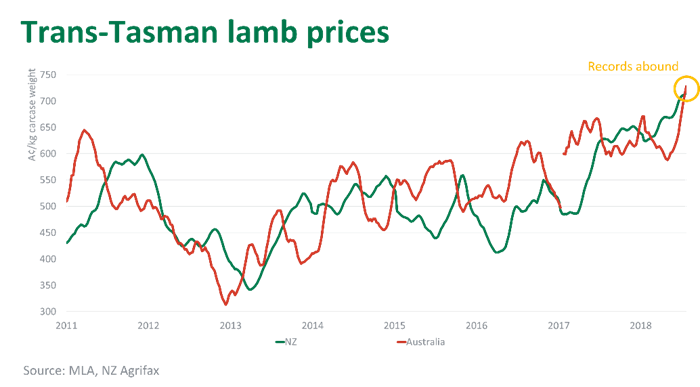 So what's driving this trans-Tasman market surge?
Australia and New Zealand account for about 70% of the global sheepmeat trade, and more so when it comes to exports of high quality prime lamb. The remaining trade is largely contained to a regional level – mostly between European countries or intra-African trade. Put simply, while some production growth is expected out of Oceania, the region cannot keep up with increasing global demand.
NZ lambing rates were a record high last year but the flock has continued to contract, losing hectares to dairy over the last decade and, more recently, impacted by a modest beef herd expansion and a changing environmental regulatory environment. Beef + Lamb NZ have forecast a small lift in to 2017-18 (October-September production year) lamb crop but many lambs were killed in the December quarter last year leaving fewer for 2018 slaughter. NZ lamb slaughter across February-March was back 17% year-on-year, with production compounded further by lighter weights coming through. Slaughter rates have lifted more recently, up 20% year-on-year across April-May but will now enter a period of sharp seasonal decline.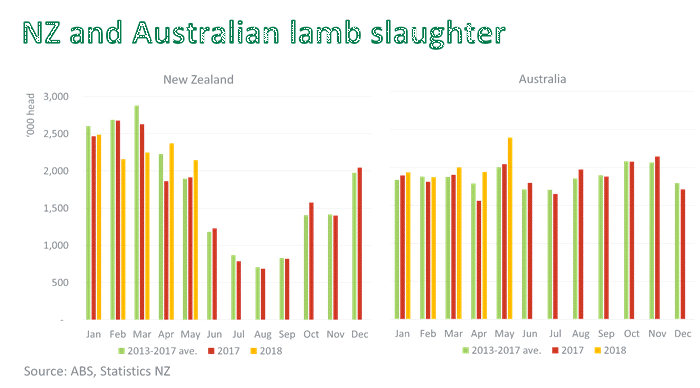 As highlighted last week, Australia also entered a period of elevated lamb slaughter in May, keeping a lid on prices. However, with Australian lamb kills subsequently contracting and NZ nearing the bottom of seasonal its trough, neither producer is able to keep up with current export demand and prices have surged.
And demand abounds. Australian lamb exports lifted 12% in 2017-18, reaching a record 270,000 tonnes swt, led by strong demand from the US and China. Mutton exports jumped 32% in 2017-18, to 161,000 tonnes swt, reflecting on-going dry conditions and an export market ready to purchase any additional volume. Moreover, in the 12-months to May 2018, export value increased 23% over the same period last year, to an unprecedented A$3.2 billion FOB and reflective of an overall rise in average unit export prices.
New Zealand has experienced similar demand growth in recent years, however with supply constrained export expansion has largely come at the cost of its own domestic consumption.
What next?
August typically marks the seasonal low in New Zealand lamb supply. Meanwhile, poor pasture conditions and high feed costs will likely delay the first wave of new season lambs out of NSW. As such, prices may remain elevated until adequate supplies in either country hit the market later this year.
However, there are a few risks around reaching a price ceiling consumers are willing to pay and sheepmeat getting caught up in the ongoing trade wars or economic shocks, particularly a slowdown in China – the biggest imported sheepmeat market in the world.
Keep an eye-out in coming weeks for MLA's New Zealand sheep competitor snapshot, which provides a comprehensive overview of Australia's principle rival in the global sheepmeat trade.
Join myMLA today
One username and password for key integrity and information Systems (LPA/NVD, NLIS, MSA & LDL).
A personalised online dashboard that provides news, weather, events and R&D tools relevant to you.
Customised market information and analysis.
Already registered for myMLA?