Back to

Prices & Markets
Subscribe to Prices & Markets e-newsletter
For in-depth red meat market news, information and analysis.
SIGN UP
Turning point in US cattle supply
25 July 2019
The US cattle herd cycle drives production of the world's largest beef producer and has an overbearing effect on North American and Australian cattle prices. The US herd is cyclical in nature and tends to expand or retract every 6 to 8 years. Last week the USDA released its mid-year cattle inventory update, which logged a turning point in US cattle supply. After five years the US has reached the end of its expansion phase and will likely move into a contraction over the coming years.
The US herd size is an important benchmark for analysing price cycles in Australia, given the clear pattern between Australian and US cattle markets. Unlike the US, there isn't a clear cyclical pattern in the Australian herd, with cattle supply more driven by year-to-year seasonal conditions. However, as discussed previously, Australian cattle price movements tend to follow the US market in the long term, which is ultimately driven by US domestic supplies and global beef demand.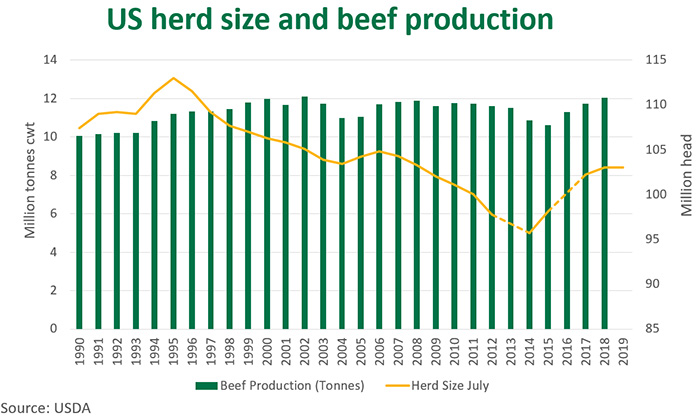 Last week, the USDA reported the total inventory of all cattle, as of 1 July 2019, to be 103 million head. This is unchanged from last year, however indicates the end of the cyclical growth phase. The cow herd was estimated at 41.7 million head, down 100,000 (or 0.2%) on 2018. This is the first contraction since 2014 and was attributed to a decrease in the size of the dairy herd (down 1.1%). The beef cow herd was unchanged from last year's figure, at 32.4 million head. However, by July 2020 the beef cow herd is forecast to drop to 31.7 million, a decrease of 700,000 on this year. High levels of slaughter over the coming twelve months will see beef production continue to expand, before falling away later in 2020.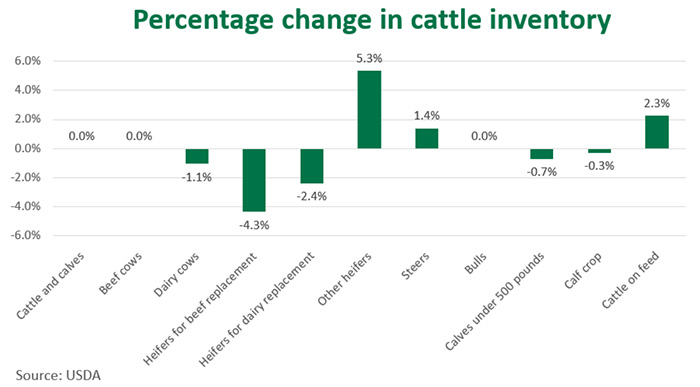 As of 1 July, the total number of US cattle on feed was up 2% on last year, totalling 13.6 million head. Compared to last year, the percentage of heifers on feed has gone up by 7.7% suggesting tighter cow-calf margins have incentivised producers to offload surplus heifers to feedlots.
The USDA estimated that producers intend to hold 200,000 less (or 4.3%) beef cow replacements and 100,000 (or 2.4%) less dairy replacements heading into next year. As a result, the cow herd and 2020 calf crop is expected to drop away, subsequently leading beef production to fall. While US fed cattle prices have cooled off in 2019, a contracting herd size will lead to reduced supply and price support in coming years.
Domestic US beef demand is currently strong, with a positive shift in consumer preferences and healthy foot traffic through restaurants nationwide. However, demand has been supported by a humming US economy, which has recently shown signs of slowing. An outright downturn would reduce purchasing power and consumer confidence, hurting beef demand.
© Meat & Livestock Australia Limited, 2019