Unprecedented EYCI recovery
12 November 2015
---
It has been a price rollercoaster over the past 40 days in the Australian cattle market. After peaking at 595.25¢/kg carcase weight (cwt) on 29 September, the Eastern Young Cattle Indicator (EYCI) began to rapidly decline, to 517.75¢/kg cwt on 20 October – a 77.50¢/kg cwt drop in three weeks.
While the recent fall was the largest three week ¢/kg drop in the EYCI's history, it is not unprecedented and similar magnitude falls have been recorded before. However, the magnitude of the recovery in the EYCI, following such a large price drop, has never been witnessed since the benchmark indicator was first reported in 1996.
The figure below compares the recent price decline to the six other largest price falls going back to 1996. Most of the events also occurred in October (1997, 2001, 2002, 2006) but other major price falls also occurred in July (2002) and April (2007). The pre-fall price of each event has been indexed back to 1 – a value below 1 indicates a price below the starting value while a value above indicates a price exceeding the starting value.
As is evident in the figure below, greater magnitude price falls have occurred in the past, namely October 2006 and July 2002 – both of which followed widespread dry conditions across eastern Australia.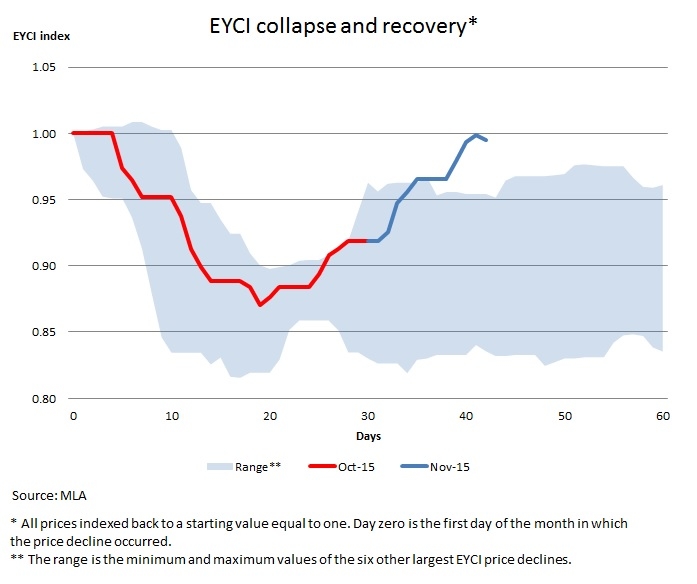 Finishing Thursday at 591.75¢/kg cwt, the EYCI has now recovered almost all of the October losses. Over the past week, EYCI eligible cattle in NSW have averaged 598¢, while the same lines in Queensland and Victoria have averaged 600¢ and 552¢/kg cwt, respectively. Furthermore, many sales are now averaging in excess of 600¢/kg cwt.
As illustrated above, the EYCI has never responded with such vigour from a bullish market. The closest comparison to current events was 2006, when, after northern NSW and south-east Queensland received up to and in excess of 100mm, the EYCI lifted 20¢/kg cwt in the first week of November. However, wide-spread follow up rain failed to occur and prices eased over the remainder of the year.
Cattle prices typically decline in November and December, as greater numbers of southern cattle are turned off with the onset of summer. The current market seems like it might buck this trend, with recent rain bringing renewed optimism to NSW and Queensland restockers. However, the Bureau of Meteorology (BOM) is forecasting a hotter and drier three months ahead for the south-east of the country, which may provide a limit to the up-side price potential over the remainder of the year.
Join myMLA today
One username and password for key integrity and information Systems (LPA/NVD, NLIS, MSA & LDL).
A personalised online dashboard that provides news, weather, events and R&D tools relevant to you.
Customised market information and analysis.
Already registered for myMLA?