US beef increases presence in Asian markets
29 August 2017
The US cattle herd has increased almost 7 million head since 2014, currently estimated at 102.6 million head. The rebuild has led to a rise in beef production and consequently an increase in exports, particularly to key Asian markets.
The US' primary beef export markets are Japan, Korea and Mexico, with demand for chilled beef product growing in these markets. Overall, US beef exports were valued at US$5.6 billion FOB in 2016-17 – the second highest fiscal year on record (GTA).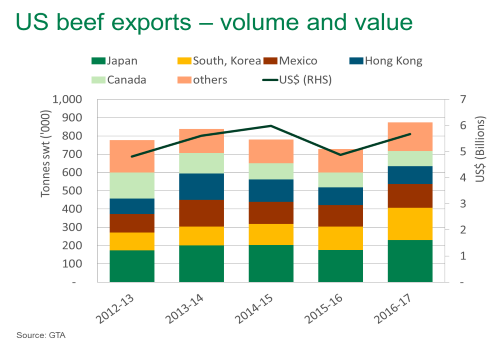 US exports to all key markets increased year-on-year in 2016-17, with the biggest growth coming from Japan (up 31%, to 230,360 tonnes swt) and Korea (up 38%, to 175,972 tonnes swt).
The US is the second largest supplier of imported beef to Japan after Australia, occupying 41% of total market share during 2016-17, up from 36% the previous year.
The US market share in Korea increased from 39% in 2015-16, to 46% in 2016-17.
The US has regained access to export beef to China after a 14 year absence. However, import regulations will limit the amount of beef the US can supply to China in the short term.
The surge in US exports, combined with the tighter Australian beef supplies, has created stronger competition in Australia's key export markets.
Join myMLA today
One username and password for key integrity and information Systems (LPA/NVD, NLIS, MSA & LDL).
A personalised online dashboard that provides news, weather, events and R&D tools relevant to you.
Customised market information and analysis.
Already registered for myMLA?