US beefs up
16 February 2017
The US cattle herd has recorded three consecutive years of growth – it stands at 93.6 million head as of January 2017 – and last year witnessed a rapid recovery in beef and veal production.
In 2016, the world's largest beef producer increased production 6%, to 11.5 million tonnes cwt; in comparison, Australian production declined 17%, to 2.1 million tonnes cwt. The US is one of Australia's principal export markets – it was the largest in 2015 and second largest in 2016 – and the primary competitor in the high value markets of Japan and South Korea. Hence, when the US increases production, it is felt across multiple markets.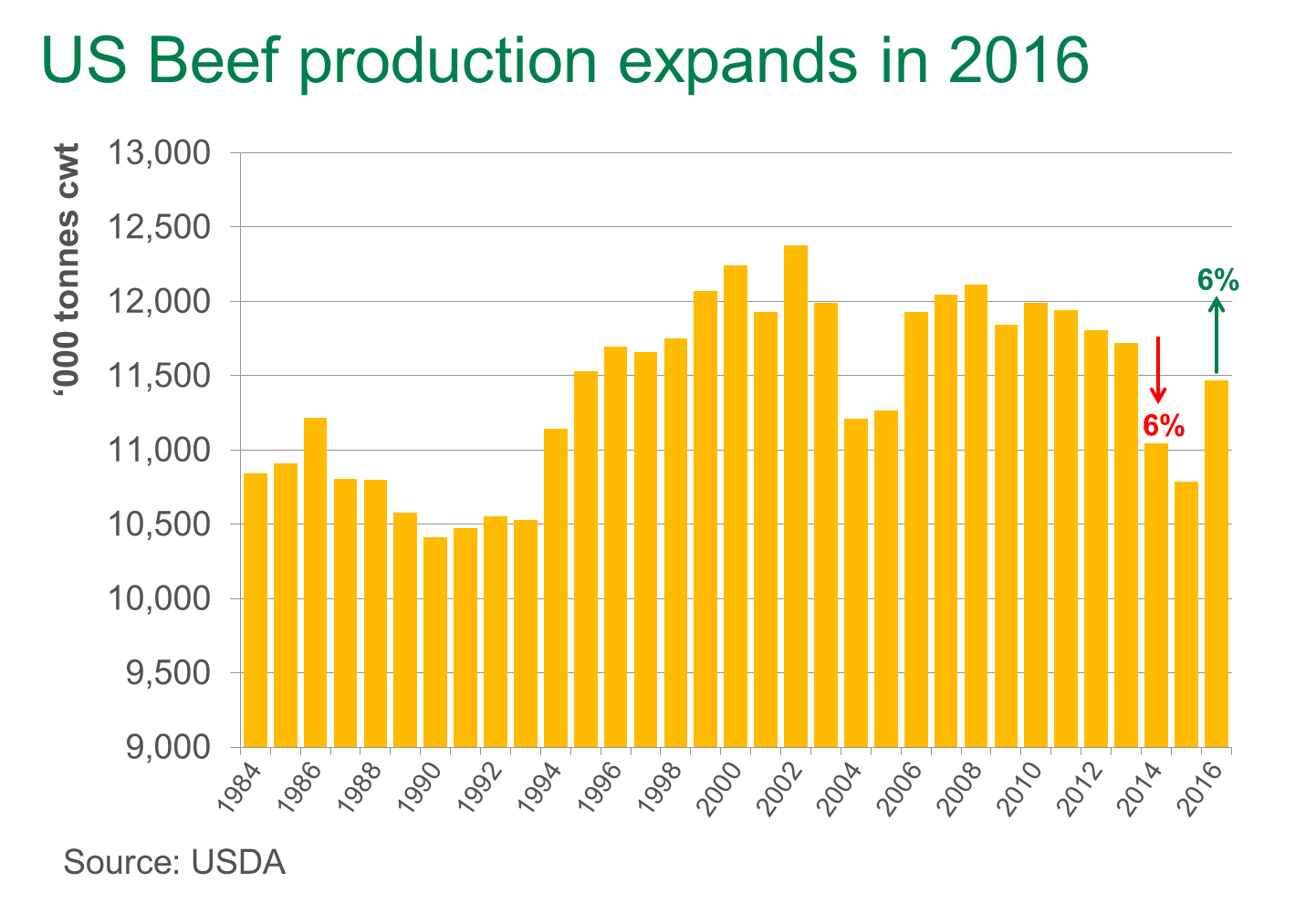 Australian beef exports declined 21% in 2016 but shipments to the US were back 42% from what was an unprecedented year in 2015 – primarily due to the recovery in US production but also impacted by the significant reduction in Australian cow slaughter over the past twelve months.
While Australian exports to Japan declined by a smaller magnitude in 2016, down 7%, and it maintained its position as the lead supplier of imported beef, imports of US product increased 16% year-on-year and to their greatest level post the discovery of BSE in the US late 2003. Click here for a summary of the latest Japan import statistics.
South Korea bucked the trend of most markets in 2016, with Australian exports to the country increasing 8% year-on-year, to a record 180,000 tonnes swt. However, US presence in the market increased significantly last year – imports from the US increased 47% year-on-year and its share of the imported beef market grew from 36% in 2015, to 43% in 2016.
Australian exports benefited in 2014 and 2015, when US production declined to levels not witnessed for over two decades. However, the same principals are putting pressure on some of Australia's largest export markets. While Australia will continue to be a major supplier to these countries, with exports forecast to recover from 2018 onwards, growth in herd numbers this year indicates there is still scope for further US beef production expansion – the latest USDA World Agricultural Supply and Demand Estimates (WASDE) forecast US beef production to increase a further 3% in 2017.
Join myMLA today
One username and password for key integrity and information Systems (LPA/NVD, NLIS, MSA & LDL).
A personalised online dashboard that provides news, weather, events and R&D tools relevant to you.
Customised market information and analysis.
Already registered for myMLA?