US exports register strongest start since 2000
08 May 2017
US beef exports recorded a massive first quarter. At 208,000 tonnes swt, it was the strongest start to the year since 2000 and 23% above the same period in 2016. On this growth path, the US will overtake Australia as the third largest global exporter, behind Brazil and India.
US beef exports have been underpinned by continued production expansion. The April publication of the USDA World Agricultural Supply and Demand Estimates had first quarter US beef production pegged at 7% above year-ago levels and 2017 forecast to finish 5% higher year-on-year. As discussed last week, recent short-term weather related supply disruptions may dampen second quarter figures slightly, but US production expansion appears set to continue.
The consequences of growing production from the world's largest beef producer are being witnessed in some of Australia's key export markets, namely Japan and Korea. At a time when Australian production is constrained, US volume share of the Japan imported beef market has grown from 38% to 44% over the past year. In Korea, this figure has grown from 39% to 43%. Australia's share of both markets has declined by a similar magnitude, albeit Australian exports to Japan have recorded double-digit growth throughout the start of 2017.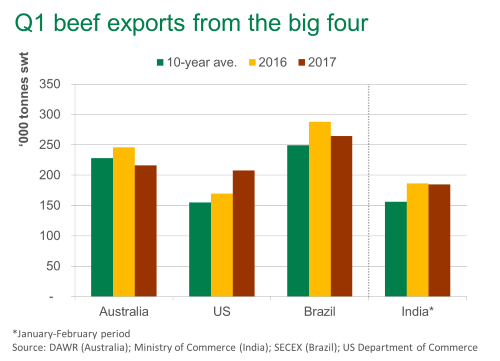 As illustrated above, beef export figures from other major players reflected a constrained start to the year. In contrast to the US:
Australia exported 216,000 tonnes swt during the first quarter, back 12% year-on-year
Brazil exported 264,000 tonnes swt during the first quarter, back 8%
India exported 185,000 tonnes swt across January and February, back just 1%
Join myMLA today
One username and password for key integrity and information Systems (LPA/NVD, NLIS, MSA & LDL).
A personalised online dashboard that provides news, weather, events and R&D tools relevant to you.
Customised market information and analysis.
Already registered for myMLA?